If you haven't been following along at home, we're still waiting for a new Calendar to go along with the shiny new Outlook.com that was released last July 31st, making it 8 months and counting without a companion Calendar.
If you go back with us a ways, you'll remember that Microsoft's ineptitude at producing a working and modern calendar goes back a ways, too.  In fact, the wait for what was then Windows Live Calendar took so long that we took an April Fool's jab at it, trumpeting in the headline that we'd "obtained" a Windows Live Calendar.  Well we had, sort of, and we not only showed off but gave away a copy of a real life Calendar featuring German supermodel Lena Gercke: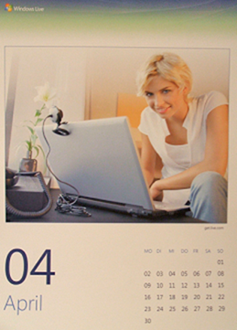 Now here we are, 6 years later, still waiting for a workable calendar, but this time we're far beyond seeing anything funny about the situation.
Oh, we'll get a calendar, and probably sometime soon, but knowing Microsoft it will be a "beta", short on features, and won't be anything worth using for another two iterations.  Still, Calendar employees tell us they're "working hard", and maybe we'll be pleasantly surprised.  Yeah right.  Anyway, and as we said way back in 2007, Happy April, everyone!