Being stuck in the real world has its advantages, sometimes.  You sit down in front of the computer after dealing with day to day life, and whaddya know, a new Calendar!  And from the looks of it, while it carries the simplicity of design that comes along with Microsoft's Metro look, it's just a nice little Calendar, clean and simple.
Microsoft's David Dennis broke the news this afternoon with a post on the Outlook blog, and has lots of details on the new Calendar.  Promising "content over chrome", the new Calendar keeps it simple:
The new, modern design of Outlook.com, along with many of Microsoft's other products, optimizes "content over chrome," which, in the case of calendar, means your events and appointments are the primary focus.

We also made navigating and getting info into your calendar faster than ever. You can add or edit events with a single click, enter an event by simply dragging your mouse across the time or date range you need, add tasks without opening a new page, and jump to a particular day simply by clicking the date.
But if you're looking for more control, it looks like this new Outlook.com Calendar can deliver that, too: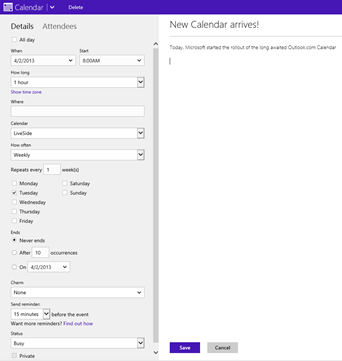 The calendar works across Exchange ActiveSync, and can connect to your older Outlook installations using Outlook connector, as well as connect to Windows 8 and mobile devices.
While there simply isn't any excuse why it's taken so long to release a calendar worthy of Outlook.com, it's finally here.  You can read more about it on the Outlook blog, and check your accounts as the calendar will be rolling out this week.