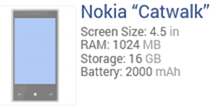 We first heard rumors of a couple of new, lighter Nokia devices back in January, and now, according to a set of tweets (noted by WMPowerUser) by Italian mobile phones guy @flapic ("Flavio"), we can now add some rumored specs to the rumored devices.
According to the tweets, the "Catwalk", which is supposed to be "launched" on May 15th and available in late June or early July (just in time for Build?, which is already sold out), will indeed be both thinner and lighter:
[Exclusive] Nokia Catwalk: S4 1.5GHz dual, 4.5″ octaOLED 1280×768, 1GB RAM 16GB ROM, 8.7Mpx f2.0 OIS, 2000mAh not remov, 129x71x8.4mm, 132g.

— Flavio (@flapic) April 5, 2013
Contrasted with the Nokia 920 (hey, a good chance to show off our revamped Gallery!), which weighs in at 185g and 10.7mm thick, if these specs hold true the Catwalk will be significantly thinner and lighter, a sticking point with the 920. @flapic "confirms" earlier reports that the new Nokia will use an aluminum body, and also that the Nokia "EOS", another rumored device, will come with a 41MPx camera, similar to the Nokia 808 (a non-Windows Phone device).
We've updated our specs for the Catwalk in our Gallery, but do take any "rumored" specs with a grain of salt or two.
Just one last note on the Gallery: thanks to a lot of hard work by Damaster, we've been gathering info on Windows Phones in a Gallery for quite a while, but our table structure was getting a bit unwieldy, and so we made use of some features of WordPress and rebuilt it. We have lots of plans to expand our coverage to more devices and services, stay tuned! For now, though, take a look around at our "work in progress", the comments are open, let us know what you think!