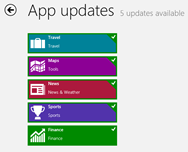 The folks in Redmond must be feeling relieved about getting their taxes done (today, April 15th, is the deadline for paying your federal income taxes here in the US), as not only has Skype for Windows Phone 8 updated, but so has the set of Bing Apps for Windows 8.
In a blog post on the Bing Search blog, Microsoft announced that starting today Bing will be rolling out "a significant set of updates" to the Windows 8 apps, with 5 of them already available here, and a note that Weather will be "shipping over the course of the coming days".
The other five: News, Maps, Finance, Sports, and Travel, are all getting new features and upgrades and should be available for you now (as usual, you can open the charms bar and check Settings>Check for Updates if the updates don't appear in the Store).  You can read more on the Bing Search blog post, but here's a quick recap of the features, including for Weather:
News:

You can now customize the Bing News app to "keep tabs on specific story categories, topics, or news sources that matter to you".
Bing is adding RSS feeds support and offline reading to the Bing News app too, so now maybe you can replace the deadpooled Google Reader with a Bing News app reader!  (our RSS feed is http://feeds.feedburner.com/liveside, by the way!)

Maps:

Improved driving, transit and walking directions
Up-to-the minute traffic incidents notifications including construction and accidents
Save common places as favorites or pin them to your start screen so that they roam across your Windows 8 devices

Finance:

An updated watch-list
Real-time US stock updates
Customizable interactive charts

Sports:

29 additional sports leagues, with a total of 65 covering Soccer, American Football, Basketball, Rugby, Cricket, Tennis, Motor Sports, Baseball, Ice Hockey and Golf

Travel:

Additional travel content from Lonely Planet, Frommer's and Frodor's

Weather:

Dynamically moving weather maps for your city or region in a number of categories including satellite, temperature, precipitation, cloud cover and radar
Weather conditions at ski resorts in 24 countries around the world
Maybe Microsoft is breaking the logjam and we'll start to see the "Devices and Services" company start acting like it's not stuck in the last millennium and begin to ship regular updates, along with new devices and services.  Let's hope so, there's lots of work to do!