Another day, another updated app coming from Microsoft.  This could get exciting if it keeps up!  This time, it's a newly updated Android app for Outlook.com, an app that Program Manager Steve Kafka admits "has been behind" in his blog post on the Outlook blog detailing the new app.
Along with an updated look and feel with an overhauled user interface: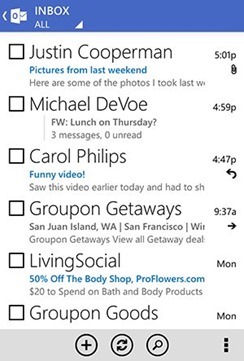 .. the new app provides "the same great Outlook.com look and feel you've come to love on Windows 8 and the web on your Android device", according to the blog post.
Also included in the new app are a number of new features, including conversation threading, filters for unread and flagged mail, and being able to mark messages as junk.
The new app uses its own Exchange Active Sync stack to provide a consistent experience across all Android devices, which can "vary significantly":
We believe that the best mobile experience is enabled through Exchange ActiveSync–which provides a rich, powerful, network-optimized experience for Windows Phone, iOS and other mobile devices. However, native support for Exchange ActiveSync on Android devices varies significantly and so we build a separate app to ensure as many people as possible can have a great Outlook.com experience across all their devices.
You can get the app from Google Play, which lists some more features:
This official Microsoft Outlook.com app gives you easy access to Oulook.com so you never miss an email. Send and receive emails in your Outlook.com account on the go from your Android device. Sign in using your existing Microsoft account, usually your Outlook.com email address and password.

Key features include:
– Get email messages right away with push notifications
– Sync with your calendar and device contacts
– View and sync standard and custom folders, including sub-folders
– Send, receive, and view photos and other attachments
– Use with multiple Outlook.com accounts

Tip: to view your Sent, Junk, Trash or custom folders, from the app menu select Account Settings, Folders' and then Refresh folders. Then select from the list which folders you would like to sync to receive updates.

You can also choose to truncate messages to display headers only or the entire message up to 100KB.

Android versions supported: 2.1 – 2.3.3 and 4.0 – 4.1
We're a little short on Android devices here to test it out, if you haven't moved up to Windows Phone yet, give it a try and let us know what you think