If you're like us, you're unable to log in to Skype using your Microsoft account credentials right now.  We first noticed the problem this evening, getting an error message when we tried to log in: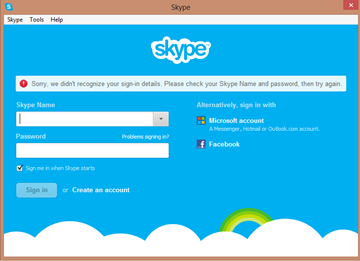 A quick check of Twitter shows a number of other users have been experiencing the same problem, some from as long as 4 hours ago, and over at community.skype.com, there are a number of threads complaining about the issue, and an official notification that Skype is aware and looking into the problem:

Microsoft is in the process of moving people from Windows Live Messenger to Skype, no word on whether this outage is related.  You're still able to sign in to Skype via your Skype credentials, or with Facebook Credentials, and you can still get to your Microsoft "buddies" (are they still called that?) via Windows 8 messaging or via Outlook.com, or via Windows Live Messenger, if you still have it installed.
Hopefully the outage won't last long.
Update: The Skype support page reports the problem has been fixed:
[UPDATE Apr 25, 2013 13:50 GMT]: We are still monitoring the situation but the majority of users should now be able to sign into Skype with their Microsoft Account.