Yesterday, Skype announced a preview of Skype for Outlook.com (which should be available now for users in the UK, and will be coming to the US and Germany soon, and then the rest of the world "this summer").  Hot on its heels, over at the Skype "Garage" blog, Skype has announced another new preview, this time for Video Messaging for Windows Desktop.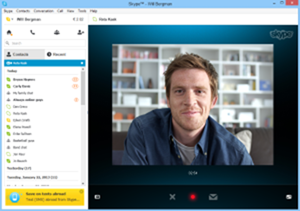 The preview, available for Windows 7 and Windows 8, updates your Skype for desktop installation to Version 6.5.0.107 (and requires Flash to run the Video Messaging feature).  The preview joins Video Messaging Previews for Skype for Mac, Skype for iPhone, Skype for iPad, and Skype for Android, and the blog post promises that Video Messaging for Skype for Windows 8 (Metro) and Skype for Windows Phone "will be coming to these platforms soon".
Like we said yesterday, while it's good to see Skype continuing to make progress, we're becoming a bit concerned with what appears to be a disconnect between Skype and the rest of Microsoft in terms of focus and direction.  Yesterday's Skype for Outlook.com requires a browser plugin to work, today's Video Messaging requires Flash, and long after Skype has supported Apple and Android we're still waiting for Windows 8 and Windows Phone support for features like Video Messaging.  This comes just as Microsoft with Windows 8 has been making a big push for HTML5 and Windows 8 (Metro), plugin-free browsers, and bringing Windows Phone up to speed with its competitors.
In addition, in many instances, Skype (to put it bluntly) just doesn't work all that well, and lacks basic features.  Logging in with a Microsoft account still feels like a second-class entrance into the system (Skype login does not remember your Microsoft account user, for example, meaning you have to retype your user and password every time you log in to Skype), and users are still complaining that Facebook / Skype integration is broken or working poorly.
Skype was a popular service before Microsoft acquired it, and will continue to push to support all major platforms as it expands its network, that's a good thing.  But Skype is a Microsoft property now, and supporting Microsoft products as an afterthought just isn't cutting it, in our opinion.
Anyway, you can get Video Messaging for Windows 7 or Windows 8 (desktop) now.  By the way, if you're in the UK and have Skype for Outlook.com working, we'd love to know what you think.