We already know the dates: May 21st for "Xbox: A New Generation Revealed", and  a well rumored June 10th date for the Xbox press event the day before E3 (June 11-13th) in Los Angeles.
Today brings some news on both events, starting with news that Microsoft will unveil Call of Duty: Ghosts" at the May 21st event:

The news comes with its own teaser webpage, and a self proclaimed "teaser trailer" for the new Call of Duty trailer.  This comes right after a Kotaku.com report that the next new title from Respawn Entertainment, the makers of Call of Duty, will be exclusive to Xbox, either to the next generation device, or alongside an Xbox 360 version.  Since we're already set to hear more about Call of Duty: Ghosts at the May 21st event, is it possible we'll be hearing more about this new title, too?
In other news, the Xbox press event is now official, as invites went out this morning: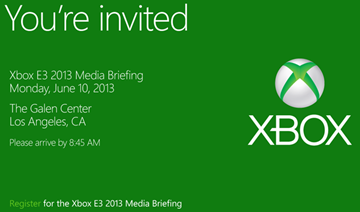 We'll be there, bringing you all the news from E3, and there should be a ton of news!  Until then, we expect to hear lots more speculation on details of the next generation Xbox and what's expected to come along with it.  Stay tuned!