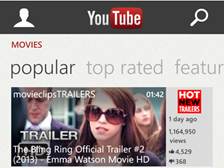 Up until now, the official Windows Phone YouTube app was nothing more than a link to the web version of YouTube. While Apple and Android have had full fledged YouTube apps forever, Windows Phone has had to settle for an inferior experience. The lack of features wasn't the fault of Microsoft, however, something that Microsoft Chief Counsel Brad Smith noted in a diatribe focused on Google that was published in March of 2011:
Unfortunately, Google has refused to allow Microsoft's new Windows Phones to access this YouTube metadata in the same way that Android phones and iPhones do. As a result, Microsoft's YouTube "app" on Windows Phones is basically just a browser displaying YouTube's mobile Web site, without the rich functionality offered on competing phones. Microsoft is ready to release a high quality YouTube app for Windows Phone. We just need permission to access YouTube in the way that other phones already do, permission Google has refused to provide.
Apparently Google has had a change of heart, however, and this morning Microsoft announced an update to their Windows Phone app that should bring the app on par with its competitors. The blog post lists "lots" of new features:
Pin videos, playlists, channels, and even search queries to Start as Live Tiles for fast access. The tile flips to show either the latest video from your subscriptions or the most popular one.
A new and innovative playlist design gives you easy access to videos using a touch-friendly filmstrip.
Just want to listen to a video? It now plays in the background even when the screen is locked.
You can share videos to popular social networks, and via email and text.
As noted by the blog post, the app can be configured to work with Windows Phone Kid's Corner and the YouTube Safety Mode to limit content based on your settings, a good example of Kid's Corner integration capabilities with 3rd parties.
And for those of you on Windows Phone 7.5, the good news is that an updated app is "on the way in a few weeks", and if you're looking for language support, the app's Store page has a list of languages that will be added "in the near future":
Bulgarian, Catalan, Taiwan Chinese, Croatian, Czech, Danish, Dutch, Estonian, Filipino, Greek, Hindi, Hungarian, Indonesian, Japanese, Korean, Latvian, Lithuanian, Malay, Norwegian, Farsi, Polish, Portuguese-Brazil, Portuguese-Portugal, Romanian, Russian, Slovak, Slovenian, Swedish, Thai, Ukrainian and Vietnamese
You can get the YouTube app for Windows Phone 8 in the Windows Phone Store (it's live for us, now).
Microsoft has been quietly bulking up its app catalog in recent months, and there's even a rumor that an Instagram app may make an appearance when the Nokia 928 is revealed next week – we'll believe that when we see it!