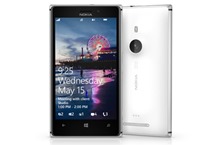 At a press event in London today, Nokia's Jo Harlow showed off the new Nokia 925, a slimmer, aluminum body Lumia device featuring a snap on wireless charging cover, and including Hipstamatic, a previously iPhone only photo sharing app that allows uploading to Instagram, and Smart Camera, a multiple image camera app that will ship with the 925 and then become available via an "Amber" firmware update to the entire Lumia portfolio later "this summer".
The Lumia 925 will become the flagship Windows Phone device for T-Mobile in the US, and will be available from China Unicom and China Mobile in China, and with Vodaphone in Europe, initially in Germany, UK, Spain and Italy, exclusively with a 32GB option.
You can read more about the Lumia 925, which will become available this June, in the press release and on the Nokia Conversations blog.