Chat has been a hot topic this week, what with the addition of Google contacts into Outlook.com and the backlash it caused coming from Google, new abilities to chat from within SkyDrive on Outlook.com, the announcements of Google Hangouts, and a few myriad Skype updates, there was plenty of news to go around.  But the week hasn't ended, and we just got word of some chat news coming from an unlikely source: Bing.
Thanks as usual to Bing's propensity for testing new stuff out in the wild (and to our readers for tipping us when they do, thanks Nate!), we caught an early glimpse at what looks to be a new way of interacting via search: a live chat box right from within Bing: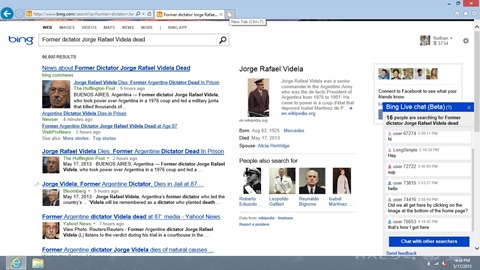 Here's a closer look: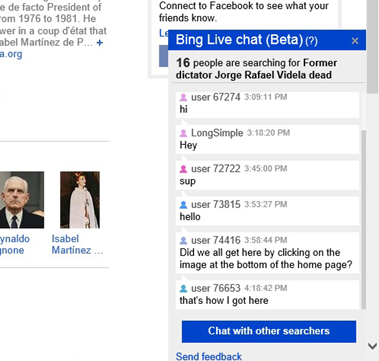 As you can see from one of the messages, apparently there was an image link at the bottom of the Bing Home page that opened up this chat window.  Only going by what we see here, this doesn't appear to be a connection into your Microsoft account or Skype messaging contacts, but rather a way for anyone searching for a particular search term to (anonymously?) connect with others searching for the same thing.
Would you use Bing Live chat?  The mind reels at all of the unseemly ways this might be put to use, but hey if it gets you closer to what you're looking for, it's all good, right?
Again, as usual, there's no telling if Bing is just testing out a never-to-be-seen-again feature, or if Bing Live chat is right around the corner, but if you're one of the lucky ones to spot it in the wild, let us know!