Microsoft is betting big on "Satori", the code name for the Bing technology that attempts to understand relationships between "the people, places and things around us", and most of the announced improvements to Bing have involved Satori-driven search results, including Autosuggest from the search box and its Snapshot sidebar feature. Now today, as announced in a blog post on the Bing Search blog, Bing is adding a Carousel, much like the one on the Bing home page, to news search results. (The carousel only appears under the "News" tab, it isn't currently available for a general search):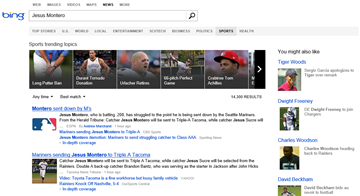 In addition, Bing is expanding the news index to go back beyond its current two week news window. From the blog post:
And that's not the only progress we've made over at Bing News. We recently extended our news articles index beyond two weeks. This means when there's no fresh news related to a given query, we can look back over several years to bring you any relevant articles. This is a pretty significant update and is just the start as we work to make Bing News even more comprehensive. While there's still more to do, we believe these updates provide you with a deeper understanding of the world and an opportunity to explore the connections we're able to make over here at Bing.
Bing has been in the periphery of some other Microsoft news recently, too. As Mary Jo Foley points out today, it's Bing that is powering much of the voice control and search capabilities in the newly announced Xbox One:
Bing is evolving into more than "just" a Web search engine for Microsoft. It's also gives the company a way to harness and make use of data using Microsoft's myriad machine learning and computation capabilities. And though it may be hard to see through all the "Scroggled" fog, Bing may be more important as a service than a "mere" search engine to Microsoft going forward.

This week, as part of its Xbox One reveal, Microsoft execs didn't call out Bing by name much, if at all. However, as a subsequent post on the Microsoft Offical Blog noted, it's Bing that provides the responses when users search by voice via Kinect for movies, TV shows and music. It's Bing that's parsing the natural-language-query commands, such as "Xbox, Snap Internet Explorer." Specifically, it's the Tellme voice technology, combined with social-graph information, plus Bing's search functionality.
So for today at least, the focus is on some of the positive aspects of Bing, and that's a good thing.