May, 2013

With only less than 24 hours to go until the Nokia Lumia press event to be held in London, the company had been busy teasing what's to come at the event. TechCrunch reports that Nokia had placed a short ad break on UK's Channel 4 teasing the upcoming …
Surface Pro will be available for purchase in Hong Kong on May 17. Microsoft HK announced it at its official website. There will be a launch event at the Windsor House, and first 150 customers who buy Surface Pro there could get free gifts – Touch Covers, …
Bing continues to expand its Social Sidebar features, today announcing that you're now able to "Like" a friend's comment or post that appears in a Bing search result, and comment directly to their Facebook post without leaving Bing:

Bing announced its Social Sidebar program in May of 2012…

It has been rumored since the beginning of the year, and we have been teased since the start of the week, and but today Nokia and Verizon Wireless has finally announced the Nokia Lumia 928, bringing the device with PureView camera to the biggest carrier in the US. …

Whilst we're all guessing what Nokia will announce during their Lumia press event to be held May 14 in London, a hot new rumor has surfaced saying that Nokia is currently planning a device with a large 4.7" screen, making it the biggest Nokia Lumia device yet.
According …

The last time Microsoft updated their Office Web Apps service was back in February, when they brought new editing capabilities to its suite of Web Apps. Today on the official Office team blog, Microsoft announced that several new features are set to come to Office Web Apps …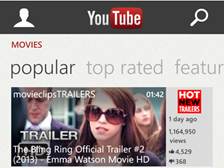 Up until now, the official Windows Phone YouTube app was nothing more than a link to the web version of YouTube. While Apple and Android have had full fledged YouTube apps forever, Windows Phone has had to settle for an inferior experience. The lack of features wasn't the …
The Nokia Lumia 928, codenamed "Laser", had been rumored since January this year, and last month we've even seen specifications and press renders of the device leaked to the internet. However, neither Nokia nor Verizon, the U.S. carrier that is supposed to carry the device, has confirmed anything …

Mary Jo Foley first started talking about Windows "Blue" as a refresh to Windows 8 and beyond, (incorporating refreshes to Windows Phone and Windows Server, too) way back last August, but it's taken until today for Microsoft to begin talking about the refresh (or service pack, or …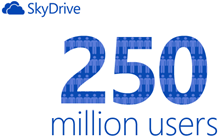 This morning, our old friends Omar Shahine and Mike Torres posted on the Inside SkyDrive blog with some new numbers related to SkyDrive, announcing that the service has reached 250 million users (the exact quote is "over 250 million people are now using SkyDrive", implying but not explicitly …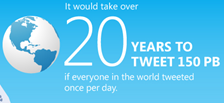 Today Microsoft announced that they've completed the transition of all 300 million Hotmail accounts to Outlook.com (while apparently adding another 100 million users, as Outlook.com is boasting 400 million active accounts according to today's Outlook Blog post).  The move took only 6 weeks, and encompassed the moving …

Only six weeks after starting an upgrade process to bring all 300 million + Hotmail users over to Outlook.com, the newly rebranded and refreshed consumer online email experience, Microsoft announced today in a blog post over at the Outlook blog that the process is complete.  There are …
This has been a big week for Skype announcements.  On Monday, Microsoft announced a beta of Skype for Outlook.com, coming first to the UK, then to the US and Germany "in the coming weeks", and the rest of the world after that.  Then on Tuesday, the Skype …
We already know the dates: May 21st for "Xbox: A New Generation Revealed", and  a well rumored June 10th date for the Xbox press event the day before E3 (June 11-13th) in Los Angeles.
Today brings some news on both events, starting with news that Microsoft …