This seems to be a prime week for imitators. Yesterday, Facebook announced that its Instagram was adding an Instagram Video feature, one so much like Twitter's Vine that it prompted John Herrman of Buzzfeed to declare Facebook "out of ideas".  Then, news filtered out that Microsoft had been working, but pulled the plug on an Amazon-like e-commerce marketplace code named Brazil.  This may or may not have been related to Manan Kakkar's discovery last year that Microsoft had also been looking to resurrect the "Expo" trademark, which if you don't recall, was Microsoft's attempt to create their own Craigslist.
Now today, in a blog post on the Bing Search blog, Microsoft is announcing another project with somewhat questionable parentage, this time a Pinterest-like effort dubbed "Bing Boards".  Boards allows a curator (Microsoft has chosen a small group of food and lifestyle bloggers to create the first Boards, and you can request an invite to begin creating your own Boards).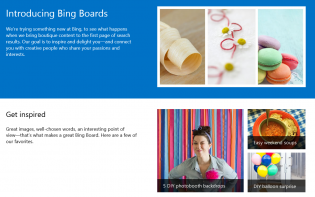 Now there are some noticable differences between Pinterest Boards (and yes, they're called that):

… and Bing Boards, the most apparent one being that Bing Boards will show up in search reasults in the social sidebar: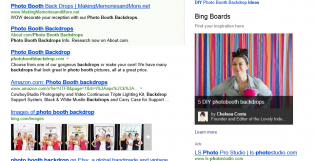 Bing just recently, if you remember, added Pinterest Pins and the ability to pin a search image directly to Pinterest.  The blog post makes it clear that Bing Boards is at this point only an experiment, and we think maybe it's just a case of imitation being the sincerest form of flattery, but what do you think?  Are there any original ideas left?