It's the last day of Build, but the sessions are going strong, and today in a session on "Stories from building the new Windows Mail app", Windows Mail app Lead PM Jeremy Epling demoed the new version of the Mail app, which isn't included with Windows 8.1 but will be coming by general availability.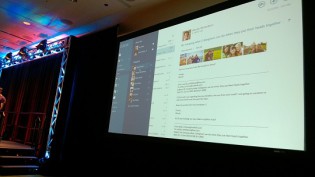 The app has cleaned up considerably, adding some color to a left hand pane, enabling multi-select with multiple ways of selecting and performing actions on emails, and making use of the new multi-sized snap view when showing off pictures included in emails, or when initiating a Skype conversation, for example.
When working with multiple selections, the new mail will automatically open the app bar, which will be configured according to the size of the pane: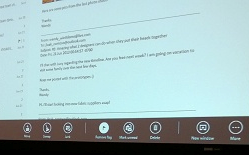 In the question and answer session, Epling noted that they're considering the Mail Client to be your "Outlook.com client for Windows 8", and have added Sweep to the Mail client, so you'll be able to set up a Sweep in the client and that will sync to your Outlook.com account.
The team has done a lot of work on Windows 8.1s use of multiple panes, and when you open an image from within an email, the email will auto collapse to the left, leaving a near full screen experience for the image, including the ability to swipe through multiple images: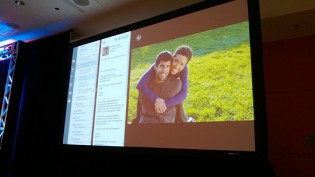 While Microsoft is also planning on shipping "Outlook RT", these new revisions to Mail, some of them only possible with the advances coming with 8.1, will make it pretty much on par with what was already available in Windows Live Mail, with a new, modern and fast UI and lots of improvements still to come.