One problem with an open and accessible web is that you can get to, copy, and re-use just about anything, regardless of its license.  Up until now, it's been difficult at best to try to do the right thing and restrict the use of images especially to ones that are licensed for free or commercial use.  The Creative Commons is a great resource for licensing images, but it doesn't do much good if it's easily ignored.  You can learn more about Creative Commons and their licenses from their website.
Now today, according to a blog post on the Bing Search blog, Bing is making it easier to find images that are appropriate to use in a blog post or website.  The new feature, "Search by License" is a simple filter on Bing.com/Images: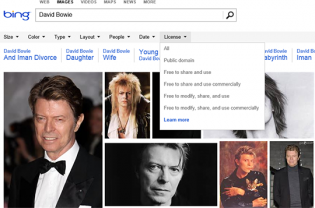 If you're running a blog or website (and yes, we'll be using Search by License from now on!), this new feature makes it easy to do the right thing.
Bing is providing the technology not only to web search, but within Office 2013, according to the blog post:
In the latest version of Office 2013, you can also search for images on Bing directly from any Office application. Not only that, the search results will show licensed images by default. This is also based on the same technology that is powering the "Search by License" filter we are introducing today.
The new filter is already live on Bing.com/Images, although that may of course vary by region.