Bill Gates retired as CEO as Microsoft in 2008, and hasn't had much to say about the company since then, at least publicly, preferring to concentrate on his foundation and his many and varied philanthropical interests.  Now today, however, The Microsoft Fire Hose announced that Gates will be keynoting the MS Research Faculty Summit, set for July 15th: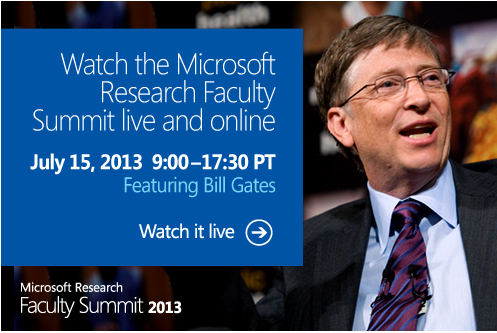 Gates hasn't keynoted the event since 2005, and it's rare for him to comment on Microsoft, especially the future of Microsoft, and he will be taking questions from the audience both live and online, so here's your chance to ask Bill Gates a question.  From the Fire Hose blog post:
Gates will address the role of computing in solving global problems, and then take questions from the in-person audience and online viewers. The keynote will be rebroadcast later in the day, but if you have a question for this leader in computing and philanthropy, be sure to view live at 9 a.m. PT on July 15.
Not sure that we'll watch the whole 8.5 hour production, but we'll be tuning in for the keynote!