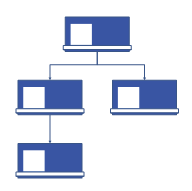 Ever since word leaked out last month that Steve Ballmer was planning a major reorganization of Microsoft, the reorg has been a hot topic of conversation.   Would Ballmer organize the company into two camps, one for Devices, and one for Services, or perhaps a different alignment, one for Consumer, and one for Enterprise?  It's been quite the guessing game, one that took up a lot of spare moments at last week's Build conference.
The latest news, coming tonight out of Bloomberg News, has Skype Division President Tony Bates would oversee "acquisitions and relationships with developers".  The post, written by Bloomberg News correspondant Dina Bass, goes on to describe Bates's apparent new role:
Within the broad business functions, Bates would lead strategy and business development and work to build relationships with software makers and partners who make hardware running Microsoft programs, two people said.
Additionally, Bass names six other current Microsoft executives said to play a role in the new org.  Julie Larson-Green, now co-chairing Windows with Tami Reller, would "oversee hardware engineering for all devices".  Reller would lead a new marketing unit.  Current Windows Phone leader Terry Myerson would lead not only Windows Phone but also Windows OS engineering.  Server and Tools chief Satya Nadella would lead a Cloud Computing unit, and Qi Lu, currently running the Online Services Business, including Bing and MSN, would take on Office and Skype engineering as well.  These scenarios fit in fairly well with what All Things D reported last month, but without a role for recently departed Xbox chief Don Mattrick, and defining a role for Tony Bates.
It isn't clear from the Bloomberg report whether these new roles will fall under a similar Division / business unit structure as they do now, or how the new organization would be structured.  The report also notes that  the restructuring isn't finalized, and may continue to change up until the time that it's officially announced.
Putting Bates in charge of a Mergers and Acquisitions unit may signal a new effort by Microsoft to focus on relationships with developers.  Coincidentally, in a hallway conversation I had with a Build attendee, they mentioned that one reason why many startups build on Google or Apple platforms is because of an exit strategy: they want to be bought by Google or Apple, and so using those technologies makes sense.  Would placing a stronger emphasis on acquisitions jump start a startup community to be more Microsoft focused?  It's an interesting thought, anyway.
Bloomberg puts an announcement of a reorg "as early as next week", and there was some talk at Build that it may happen at the WorldWide Partner Conference being held in Houston July 7-13th.