When Windows 8.1 shipped last week in preview form, it came with a new search experience called Smart Search, which searches not only your Windows 8.1 machine, but the web as well via Bing. Smart Search is featured prominently on the Windows 8.1 Preview home page: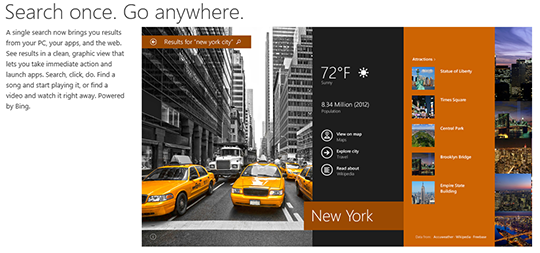 But today, Microsoft revealed another important part of Smart Search that could certainly have been surmised but wasn't mentioned up until now:  Smart Search will be powered not only by Bing, but by Bing Ads.  A blog post on the Bing Ads blog announced the addition to the Bing Ads platform, an addition to the Yahoo! Bing Network:
Bing Ads will be an integral part of this new Windows 8.1 Smart Search experience. Now, with a single campaign setup, advertisers can connect with consumers across Bing, Yahoo! and the new Windows Search with highly relevant ads for their search queries. In addition, Bing Ads will include web previews of websites and the latest features like site links, location and call extensions, making it easier for consumers to complete tasks and for advertisers to drive qualified leads.
Current Yahoo! Bing advertisers will automatically be able to participate in the new ads within Windows 8.1 without any additional setup, making it easy for them, and creating an instant inventory of ads to show in Windows 8.1.
As you can see in this screenshot from the blog post: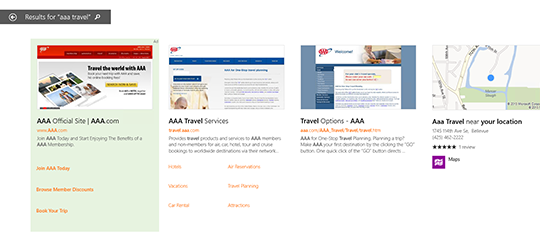 the ads will be featured prominently, and differentiated and marked as an "Ad", so as not to get in trouble with the FTC.  The blog post doesn't go into detail about when exactly these ads will begin to appear (searching for AAA Travel here, on 8.1, does not return the ad shown above), but it sounds like we should be expecting them soon.
While more ads is probably never good news for the average consumer who is inundated already, this should be quite the boon for the Yahoo! Bing Network, which has seen "significant momentum" over the past year.
Let us know in the comments if you spot an ad in Windows 8.1 Search!
(via TechCrunch)