Ever since its launch back in October last year, we've seen news about Windows Phone 8's minor updates – called GDR releases (we expected there will be 3 of them) – but we haven't heard much about the next major upgrade to the OS codenamed Windows Phone "Blue", at least officially. Screenshots from early build was leaked earlier this year allegedly via a lost phone from a Microsoft employee, but details were scarce.
Today during the Worldwide Partner Conference 2013 in Houston, Microsoft's Chief Operating Officer, Kevin Turner, revealed an interesting slide during his presentation. You can check it out below (courtesy of Mary Jo Foley):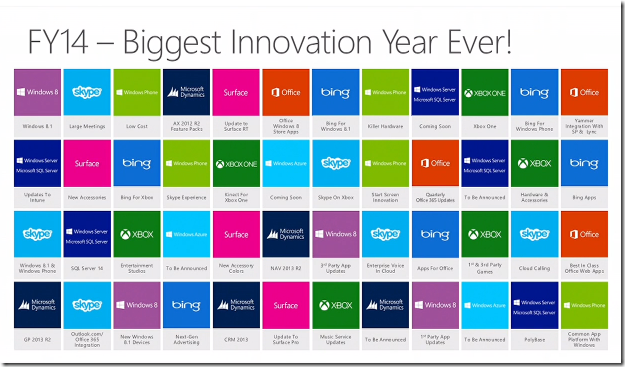 What's interesting about this slide is that it hinted at some of Microsoft's plans for the next major upgrade to Windows Phone. For those who couldn't read the tiny text, we listed them below, together with some of our thoughts on what they could mean:
Low Cost and Killer Hardware – This is kind of expected. Microsoft had been trying to push the price point of Windows Phones to be as low as possible, like the Nokia Lumia 520, to make it real affordable for those new to smartphones or in emerging markets to jump on-board. At the same time, pushing the higher end of the spectrum with some unique hardware features, like the upcoming Nokia Lumia 1020. This had been Microsoft's Windows Phone strategy all along.
Bing for Windows Phone – It will be interesting to see what kind of innovation Microsoft will bring to Bing for Windows Phone. For one, Windows Phone currently still lacks a universal search feature. Other innovations we hope to see include expanding the Bing app to make it more intuitive and intelligent –something along the lines of Google Now or Siri.
Skype Experience – The Skype experience on Windows Phone hasn't exactly been the best experience for its users – at least compared to those on iOS and Android – despite Microsoft owning the company. Can we expect greater integration, or even having Skype built-in to the platform, akin to iMessage on iOS?
Start Screen Innovation – This is particularly interesting, as we haven't heard much about this one before. Whilst the Start Screen (and its Live Tiles) is innovative as it is, this point indicates Microsoft isn't planning to stop here and will continue enhancing the Start Screen. What are your guesses?
Common App Platform with Windows – We've heard this a few times before, and it certainly makes sense to merge the Windows and Windows Phone Stores together. The WinPRT platform for WP8 and the WinRT platform for Windows 8 (and even the WinXRT plaform for Xbox One) already shares many commonalities, so it's quite certain that the platforms will converge some day. Perhaps one day we might even see Windows Phone apps being able to run on Windows (and vice versa), just like on Android and iOS?
That is not all, as Microsoft also announced today that they will be releasing an "enterprise feature pack" for Windows Phone, which will bring the following new features:
S/MIME to sign and encrypt email
Access to corporate resources behind the firewall with app aware, auto-triggered VPN
Enterprise Wi-Fi support with EAP-TLS
Enhanced MDM policies to lock down functionality on the phone for more enterprise control, in addition to richer application management such as allowing or denying installation of certain apps
Certificate management to enrol, update, and revoke certificates for user authentication
Microsoft announced that the "enterprise feature pack" will become available in the first half of 2014, although it is not certain whether this will come as part of Windows Phone "Blue" or not. Additionally, the company also announced that the support lifecycle for Windows Phone has been increased from 18 months to 36 months, meaning you should be able to continue receiving updates to your WP8 device all the way until January 12, 2016 (subject to carrier restrictions of course).
What would you like to see in the next Windows Phone major upgrade? Let us know in the comments below!