Following the announcement of the flagship Nokia Lumia 1020 last week, it appears that the Finnish company is not done with their new Windows Phone 8 product lineup. Coming fresh from China today via Sina Weibo user @ictech are news regarding a new Nokia device – named Nokia Lumia 625, that has recently passed certification in China. According to the official TENAA (radio communication device regulator in China) website, below is an image of the front of the device: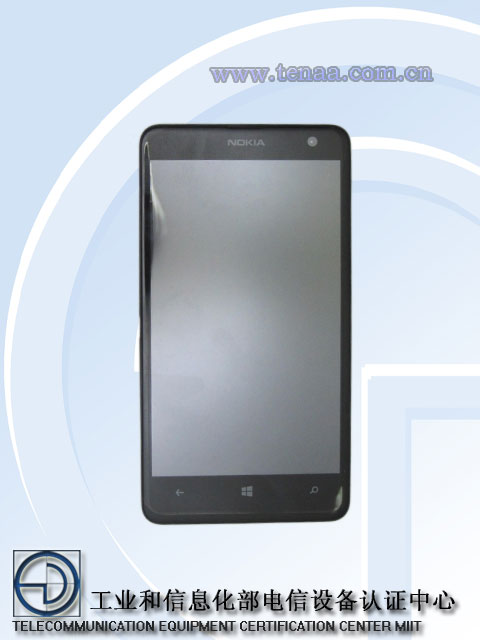 Listed as the Nokia 625H, it was reported back in May this year that this device was codenamed "Max" and has a large 4.7″ WVGA display (which is probable given the proportion shown in the image above), Super Sensitive Touch, 1.2GHz dual core processor, 512MB RAM and 2000mAh battery. It can be seen from the image above (and through the TENAA listing) that it has both a front and rear camera with LED focus assist light, and rumor has it that they will be VGA and 5MP respectively. Given these specifications and the model number, it's safe to say this is a low-end device. The device is touted to be the "cheapest LTE capable device in the Lumia range", and is expected to be made available in China by the end of July for a mere CNY1999 (approximately USD325).
What do you think of this device? Would you consider buying this? Let us know in the comments below!
Update: Interestingly, this device might have also passed FCC certification as RM-941 back in June this year. We compared the back of the device with the FCC listing image, and found some similarities between the two. Check it out below: