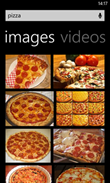 If you don't have it already (we don't), an update for Bing on Windows Phone 8 is on the way within the next few weeks, according to a new post on the Windows Phone blog. Of course, being Bing, the update is US only at first, "with additional markets coming".
The most pronounced change will be a revamp of the search result categories you're presented with on Windows Phone. Now, you get four categories: Web, Local, Media, and Shopping. With the update, Bing has been streamlined to only show Web, Images, and Videos, with the new Web category serving up streamlined relevant info with an emphasis on 1st page results:
As useful as some of the existing views might seem, many people just don't use them all—or know that they're there, Bing product manager Alisher Saydalikhodjayev told me. Consolidating and streamlining the views should reduce confusion and help people find what they're looking for more easily.

The new Web category, for example, is designed to be smart enough to show whatever's most relevant to your search, including images, videos, and local results (check out the screenshots below). "We're gonna put more info on your first search result screen," Saydalikhodjayev says. This also means less swiping on your part, he notes. The Bing team has also worked to improve the freshness of the service's local results and made it easier to get things like directions and phone numbers for local businesses.
Also included in the upgrade are infinite scrolling for Images and Videos, larger thumbnails for Images, faster loads and less bandwidth consumed by not loading Images or Videos results until you swipe over to them, and the introduction of Instant Answers to Windows Phone.
Starting with 10 Instant Answers, including traffic, flight status, currency exchange rates, word definitions, and translations, Bing for Windows Phone will return Instant Answers at the top of Web results. Bing for Windows Phone will add about 20 more Instant Answers, and the new upgrade will make it possible to add new Instant Answers to Bing more quickly.
Bing is also introducing Snapshot to Windows Phone (in the US). Providing "information at-a-glance about people, places, or things", these quick reference results are powered by a Bing technology called Satori.