Nokia held the Lumia 1020 launch event in Nanjing, China today. The Nokia 41MP PureView flagship device is now officially launched in China market via Suning online and retail stores and carrier China Unicom exclusively. Unsurprisingly, the pricing for Lumia 1020 is at 5,999 CNY (about $980) , which is quite expensive.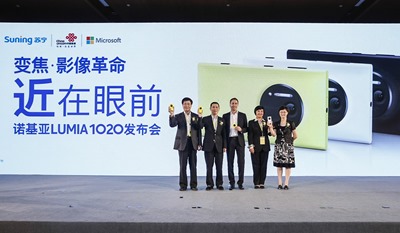 Suning has pushed promo page for Lumia 1020, indicating that the buyers can get a free Camera grip PD-95G and 200 CNY Suning gift card. Also, Nokia China announced The Photo of China contest where the winners will get free Lumia 1020 and other Lumia devices.
Last month, Nokia announced Lumia 1020 in NYC. Lumia 1020 features 41MP PureView camera with OIS, 4.5 inch AMOLED screen, Dual-core 1.5 GHz processer, 2GB RAM, 32 GB storage. Full specs of Lumia 1020 is nearly indentical to Lumia 920. Nokia also brings Pro Camera, supports dual capture, and Smart Camera apps to Lumia 1020 for professional photography.
In the U.S., AT&T customers are able to get the phone on a two-year contract for USD299.99.  (via LiveSino)