Back in June earlier this year, screenshots of an early internal build of Windows Phone 8.1 "Blue" hit the internet, revealing a very early version of a notification centre, amongst other new features. Today another photo of a pre-release build of Windows Phone 8.1 "Blue" was leaked via XDA-Developers Forums, running on what appears to be a Nokia Lumia 620. Check it out below: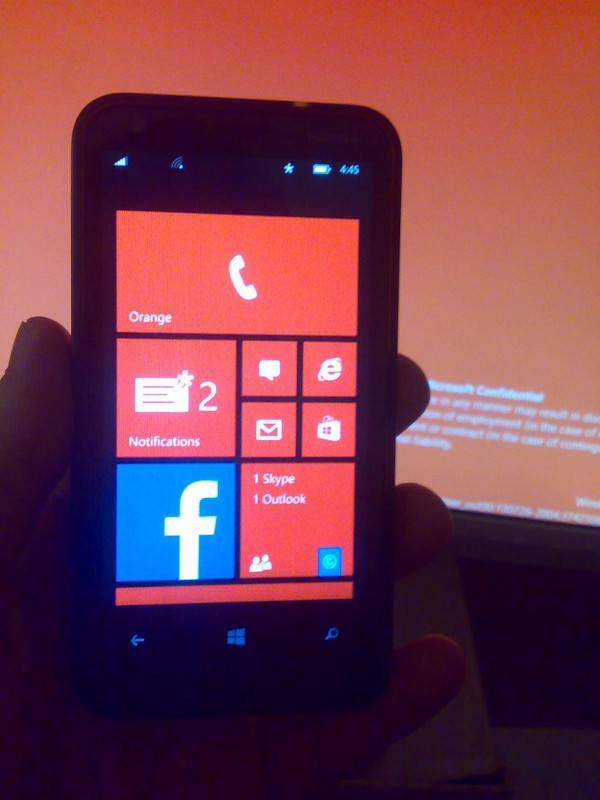 The photo shows what appears to be a "Notifications" tile, with two unread notifications. The asterisk for unread notifications also appears on the status bar at the top, which appears to be consistent to the tile. Furthermore, the People tile also appears to have been updated, showing some sort of a count for Skype and Outlook contacts, along with an unknown notification on the bottom-right corner.
The authenticity of the photo cannot be verified, however the position of the top status bar icons appears to be consistent with what Joe Belfiore posted earlier from an alleged Windows Phone 8.1 "Blue" build in his possession. The "Notifications" tile icon also seems to be consistent with what was leaked back in June, giving some authenticity to the photo. However, even if the photo is real, it is possible that this is also from a very early build of the OS, and sources claim that the way the Notification Centre will be accessed in later builds may be different (i.e. not accessed via a tile). WPCentral also adds that in Windows Phone 8.1 "Blue" notifications could optionally be "ghosts", meaning they "won't cause Toast notifications or alerts on the device, but instead will show up in the [Notification] Center." This could be determined by developers in their apps via an updated SDK, and is targeted for those non-urgent notifications that you can always check back later.
Windows Phone 8.1 "Blue" (not final name) is expected to launch sometime in early 2014.