After initially saying that they weren't going to release Windows 8.1 RTM to developers and IT pros early, Microsoft today recanted and is releasing the newly RTMed builds of Windows 8.1, Windows 8.1 Pro, and Windows Server 2012 R2 RTM to MSDN and TechNet subscribers (Windows 8.1 Enterprise will be coming to MSDN and TechNet later this month) and at the same time made Visual Studio 2013 Release Candidate available as a free trial for anyone to download.
Developer Group CVP Steve Guggenheimer announced the change of direction on his MSDN blog, saying:
We heard from you that our decision to not initially release Windows 8.1 or Windows Server 2012 R2 RTM bits was a big challenge for our developer partners as they're readying new Windows 8.1 apps and for IT professionals who are preparing for Windows 8.1 deployments. We've listened, we value your partnership, and we are adjusting based on your feedback. As we refine our delivery schedules for a more rapid release cadence, we are working on the best way to support early releases to the various audiences within our ecosystem.
At the same time, Microsoft also announced a new pre-release version of Skype for Windows 8.1 is now also available. If you remember, Skype will be built in to Windows 8.1, replacing the "Messaging" app and a Skype app you had to install separately.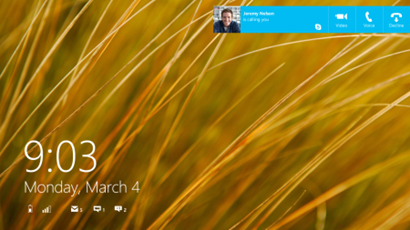 This means that today's Windows 8.1 RTM release will include a pre-release version of the built in Skype. The new built-in Skype will come with some new features, including new lock screen and Start screen functionality:
With Skype built-in, you'll never miss a message. Now, not only will you be able to view your missed calls and instant messages, but you can answer calls directly from your lock screen. And on the Start screen, you'll be able to choose how you want to respond, whether answer a call with video, audio or decline and send an IM instead.
The blog post on the Skype blog also details a number of other new features, including:
The lock screen calling feature, above
Click to call directly through Internet Explorer
App to app launching, with Skype moving to the side to make room for a new window when you click on a link within Skype (similar to how Mail behaves in Windows 8.1 Preview)
Snap Skype and adjust the size of the window
This is "a pre-release version, and Skype for Windows 8.1 will continue to be refined as we approach GA of Windows 8.1", according to a Microsoft spokesperson, so we may see more new features coming for built in Skype by launch time.
Microsoft has been making a habit of pissing its most loyal customers off recently. Earlier this year, the Xbox team couldn't seem to get anything right, and it's a no brainer that developers and IT Pros, who have gained early access to Windows RTM builds for years, would be upset by told to go stand in line like everyone else. Still, Microsoft deserves some small credit for pulling its head out and doing the right thing.
We're off to install Windows 8.1 RTM and we'll report back if we find any more fun stuff.