Today in New York, Microsoft unveiled successors to the Surface RT and Surface Pro, with faster speeds, thinner covers, better cameras and resolutions, and a number of new accessories. The new models, and some of the accessories, will be available October 22nd and will be available for pre-order beginning September 24th.
The event, which wasn't live webcast, but is available now as an on demand keynote, featured Microsoft Vice President, Surface Panos Panay up on stage introducing the new products. While there weren't any big surprises (Panay's "one more thing" moment only introduced the new Touch Cover 2), Microsoft did introduce across the board improvements to the original Surface products.
The press release and blog posts on TechNet and The Surface Blog are up, with the full details of the new products.
Microsoft doesn't seem to have learned much from their disastrous sales of the original Surfaces, sticking to their guns on pricing. The new Surface 2 (the successor to Surface RT) will list at retail for $449, with the Surface Pro 2 listed starting at $899, in 64GB and 128GB configurations with 4 GB of RAM and 256GB and 512GB configurations with 8 GB of RAM. The new Touch and Type covers have reverted back to their original prices, too, at $119.99 and $129.99 (Microsoft reduced the price on the original Type Cover to $79 when it reduced the price of the Surface RT to $349 back in August).
There are a number of new accessories for the new products: in addition to revamped versions of the Touch and Type covers, which are thinner, more rigid, and feature backlit keys, Microsoft also introduced…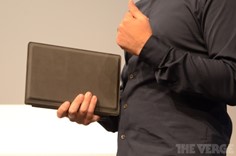 Power Cover: not available for pre-order yet, and expected out in "early 2014", the Power Cover will increase battery life on the Surface 2, Surface Pro, and Surface Pro 2 by up to 50%, and will retail at $199. In another stroke of marketing genius, Microsoft showed off the Power Cover in Zune Brown (image courtesy of The Verge live blog).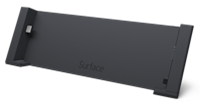 Docking Station: The Docking Station, also coming early next year, again for $199, features monitor and keyboard docking, and allows you to connect with an external monitor, Ethernet, speakers and power supply, and includes one USB 3.0 port and three USB 2.0 ports.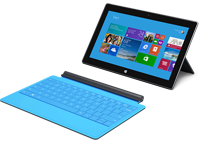 Next up is a Wireless Adapter for Typing Covers, allowing you to disconnect your keyboard from the Surface and still use it. Along with a new angle possible with the kickstand (now making the viewing angles "twice as perfect" as Mary Jo Foley said to me via IM), the Wireless Adapter should help to make Surface easier to use somewhere else than on a table.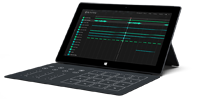 Also available are an Arc Touch Mouse – Surface Edition, and a car charger with USB port, and a kind of bizarre "Surface Music Kit" that turns the Surface into a remix machine, and supposedly is meant to show off the extensible capabilities of the detachable keyboard interface (if Microsoft can't sell the Surface, we can't imagine the tiny fraction of the market that would be interested in such a device is going to help much). You can check out more from http://www.surfaceremixproject.com/
Microsoft is also hoping to sweeten the deal by bundling some of its services with the Surface. In addition to Office, which comes with Surface 2 (as it did with Surface RT), Microsoft is also including "value-added services":
To help people get the most out of Surface 2 and Surface Pro 2, customers purchasing either device will receive free Skype calling to landlines in more than 60 countries for one year, unlimited Skype WiFi on their Surface 2 or Surface Pro 2 at more than 2 million hot spots worldwide for one year, and 200 GB of free SkyDrive storage for two years.
The lesson learned from this event was that Microsoft is sticking with its guns, determined to prove that a market exists for a tablet that does more than consumption, at a premium price. So far, the market hasn't agreed with Microsoft, with Microsoft writing down nearly a billion dollars on the failed first try at Surface. Will these new models, with new accessories, make a difference?