Whilst we didn't see it getting announced during Nokia World last month, the Nokia Lumia 525, codenamed "Glee", has been in the spotlight recently. Various rumors have surfaced regarding the device, but it was the recent leaks that confirms the existence of the device.
First we had a contest held jointly by Nokia and Canadian concert ticket sales agent Live Nation that offered the unannounced Lumia 525 as one of the prizes (the page has since been updated to say Lumia 520 instead now). If that wasn't enough, today the Chinese certification agency TENAA has approved the Nokia Lumia 525 on its website. LiveSide was lucky enough and managed to grab hold of the certification photos of the device before TENAA took it down, and you can check out the exclusive photos below: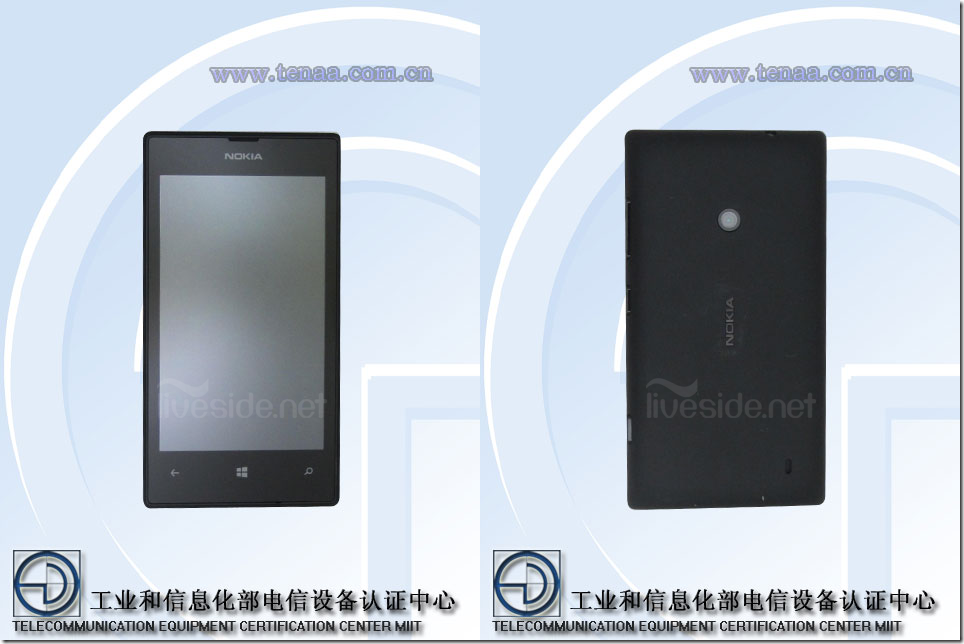 In case you were wondering, yes it does appear to look just like its sibling Nokia Lumia 520. However, we're certain that these photos are for the Lumia 525 as the certification photos for the Lumia 520 and 520T are both in yellow. It could be either Nokia sent a prototype of the Lumia 525 encased in the 520 shell for certification purposes; or the Lumia 525 does look like the highly successful Lumia 520 but with upgraded specs.
Rumor has it that the Nokia Lumia 525 will come with a WVGA display and dual-core CPU, and sources from BlogJackPhone.com indicated that the phone will have 1GB of RAM, an upgrade from the Lumia 520's 512MB. The Lumia 525 is also said to be heavily focused on music, and may ship with special headphones and marketed with the Nokia Music service during its release. Twitter user @evleaks also suggested that the device will ship in yellow, white and orange, although it was not specified whether other colors would come or not.
According to unconfirmed rumors from NokiaPowerUser, Nokia is scheduled to hold another press event sometime during the end of November to first week of December, and there's a high chance that the Nokia Lumia 525 will be announced at the event along with the Nokia "Guru" (BH-121) Bluetooth stereo headset and the Nokia Treasure Tag.