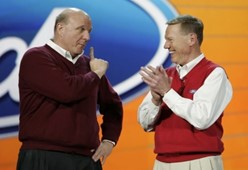 Microsoft is continuing to look for a replacement for longtime CEO Steve Ballmer, but the list of potential candidates is narrowing, according to a report today from Reuters. Included in that list are about 5 external candidates, among them Ford CEO Alan Mulally and former Nokia CEO Stephen Elop (who has stepped away from the CEO role there as Microsoft acquires Nokia's phone businesses. Elop will be returning to Microsoft in some capacity along with some 30,000 Nokia employees when the acquisition is finalized). Reuters said the names of the other external candidates "could not be learned", but the search committee is "interviewing executives from a wide range of sectors, including life sciences and consumer", according to their sources.
Internally, Microsoft is still looking at at least three candidates, including former Skype CEO Tony Bates, who is now EVP for Business Development, and Cloud and Enterprise EVP Satya Nadella. That leaves at least one internal candidate and three external candidates un-named by this latest report. There has of course there has been lots of speculation about potential successors, everyone from just about everyone on the Microsoft senior leadership team, to a number of ex-Microsoft employees, to any number of other candidates, everyone from Marissa Mayer to ex Apple exec Scott Forstall.
Speaking in Rome today, Ballmer said that the company is finding itself "having to start up again":
"Unless you're constantly inventing something new, you're old and tired. Today we're having to remake ourselves," Ballmer told his audience.
The search for a new CEO may continue for some time, and Reuters reports its sources say the process could still take "a few months".