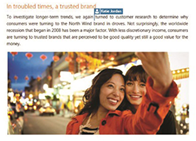 It's been a long time coming for Office Web Apps, but full on real-time co-authoring has finally arrived. Microsoft has actually offered a semblance of co-authoring for years, first announcing it way back in 2010. However, that technology required co-authors to save their work to see changes in the collaborative document. These most recent changes, which the blog post promises will be available "within the next few days" for Office Web Apps users working in SkyDrive and Office 365, allow co-authors to get real-time editing features and bringing that part of Office Web Apps up to snuff with Google Docs.
A blog post on the Microsoft Office blog explains:
Using real-time co-authoring, colleagues, friends and family can contribute and edit documents simultaneously in the Word Web App, PowerPoint Web App or Excel Web App. New real-time presence helps you see where your co-authors are working in the document so that you don't create conflicts as you edit. Additionally, the new ability to see changes to text and formatting as they happen will help you and your co-authors stay on the same page as your ideas develop and evolve.

And because Office Web Apps now save as you go, your team's edits are included and seen as they happen.
In addition to the real-time capabilities, Office Web Apps have been revamped across the board. Word is getting Find and Replace, format styling for tables, and header and footer insertion. The Word Blog has more on the changes. Excel is getting drag and drop abilities for cells and sheets, a quick analysis for data range from within the status bar, and interaction with Sheet Protected files. More, this time on the Excel Blog.
PowerPoint has been updated, too, with new picture cropping features, and you can now rename files from within the editing window.
Still to come for Office Web Apps are editing capabilities for Android, and the blog promises to "continue to bring the Office features that you value most to the Web so you can more easily create Office files from start to finish online".
Are you an Office Web Apps user? If not, do you use Google Docs, and would these changes make a difference for you?