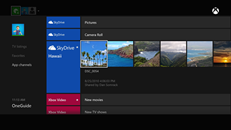 In less than two weeks, on November 22nd, Xbox One launches, and Microsoft is filling in the details of what will be available on the new generation console. Today, in a post on the Inside SkyDrive blog, Program Manager Dan Somrack takes us through some of the features you'll soon be able to play with on your Xbox One.
For Xbox One, SkyDrive is a video and picture sharing service, and any documents, etc., that you store on SkyDrive will be filtered out, leaving you with just photos and videos. The SkyDrive app on Xbox One has been built to make viewing your photos easy and fun, and includes some special features for very large photos:
If you have a really large image, like a picture of a sports stadium or city landscape, for example; you can zoom all the way in so it feels like you're there. When you're just thumbing through images, the experience is fast and fluid because we only download and show a (1080p) thumbnail. But if you are on a large image, you can use the right trigger on the Xbox One controller to zoom in, which downloads a higher resolution version. You can pan around the higher resolution version with the right stick.

We also wanted to make the standard slide show more engaging. Instead of just a simple fade, your photos slide and zoom into view—commonly known as the Ken Burns effect.
Xbox One also makes use of its new OneGuide platform to allow you to add SkyDrive folders to OneGuide, and with one command open any of your SkyDrive folders, or any SkyDrive folders others have shared with you. This makes it easy to share folders, update the content, and have that updated content be readily available on the Xbox One.
The SkyDrive app can also be used in conjunction with Xbox One's Snap feature, allowing you to snap IE, for example, next to a photo folder and dig deeper into some background on the photos you're viewing.
You can learn more about SkyDrive and Xbox One in this Channel 9 video:
[youtube_video] E2Vlsqft27I[/youtube_video]