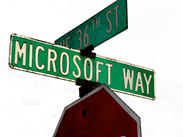 Microsoft continues to make moves to shape its "One Microsoft" strategy, today announcing that it is dropping its unpopular "stack ranking" employee review process. The move, outlined in an email to employees from HR chief Lisa Brummel this morning and detailed in an internal presentation, is already a hit, according to a report from GeekWire:
Stack ranking does have some supporters, but it also has been blamed for fostering dysfunction at Microsoft and reducing morale among employees. At an internal presentation this morning, managers clapped when Brummel announced that the employee review process would be overhauled, and by the end of the presentation they gave a standing ovation.
Stack ranking has been blamed for a number of woes at Microsoft recently, although as Dare Obasanjo pointed out just yesterday, similar employee ranking systems aren't uncommon. It's yet to be seen if the new system will indeed boost morale, but just getting rid of the old system seems to be making a statement about Microsoft's willingness to "move forward".
Microsoft has been making a number of other changes internally as well. Yesterday Dean Hachamovitch, longtime IE head, announced that he's "changing roles", but promised to "continue blogging in the near future at a different Microsoft address on a new topic". Shortly after that, The Verge reported that Joe Belfiore will be leading app development for IE, taking on some of the responsibilities that Hachamovitch is leaving behind. As Microsoft moves to consolidate IE across the desktop, RT, and phone, these new roles for two high profile managers seem to indicate that we'll be seeing more changes to IE coming in the not too distant future.
It's interesting that all of this is happening even before a new CEO is announced, and that the One Microsoft plan seems to be gaining momentum without firm leadership in place at the top, or perhaps more correctly, with the old leadership still firmly, for now, in place. All indications are that One Microsoft was and is Steve Ballmer's baby, and it may not be much of a surprise that he tries to get as much of it implemented as possible before the leadership change is made.
What that says about who the next CEO may be, and how he'll have to take over the reins of a firmly entrenched new strategy remains to be seen, but for now, Microsoft isn't acting like a company with lame duck leadership. In fact, we wish they had been making some of these moves years ago (and maybe they wouldn't be searching for a new CEO!).