According to the official Windows Phone Feature Suggestion Box at UserVoice, one of the most requested feature for the mobile OS is to have the ability to manage files stored locally on the device, gathering more than 77,000 votes on the website since it was posted in 2012. Whilst Windows Phone provides users with limited ability to manage files via File Explorer on their Windows PCs (when plugged in via a USB cable), the ability to do this directly on the phone had always been missing.
However, over a year after the feature suggestion was posted, a Microsoft representative named "Mobile Guru" went ahead and changed the status of the suggestion to "Completed", indicating that "This feature is now available in Windows Phone 8."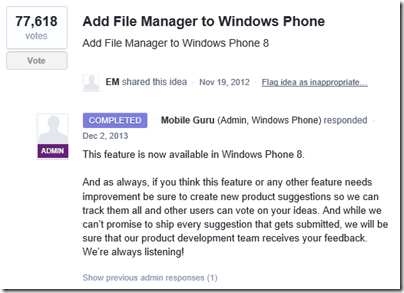 This could mean one of two things – either the Microsoft representative had mistakenly made the change; or it is signalling that Microsoft had actually added this feature to their mobile OS, perhaps in an internal build of Windows Phone 8.1 currently still in development.
Update: As expected, Microsoft has reverted the change and stated that it "was mistakenly marked as completed".
Even if the change was just a mistake made by the Microsoft representative, there have been rumors floating around the web indicating that the file manager for Windows Phone might indeed be coming. According to Twitter user @Nawzil8, who had been quite accurate with leaks of the GDR3 update previously, a file manager might just be around the corner for Windows Phone 8.1:
File Manager is coming with Windows Phone 8.1 update that will be released to all #WP8 phones in Q2 2014. #FileManager #WindowsPhone8.1

— Nawzil (@Nawzil8) December 2, 2013
The user claims that the file manager will come in the form of a SkyDrive app. This approach is very similar to the SkyDrive app in Windows 8.1, which functions as both a touch-friendly file manager for your local files and a browser of your cloud-based SkyDrive folders.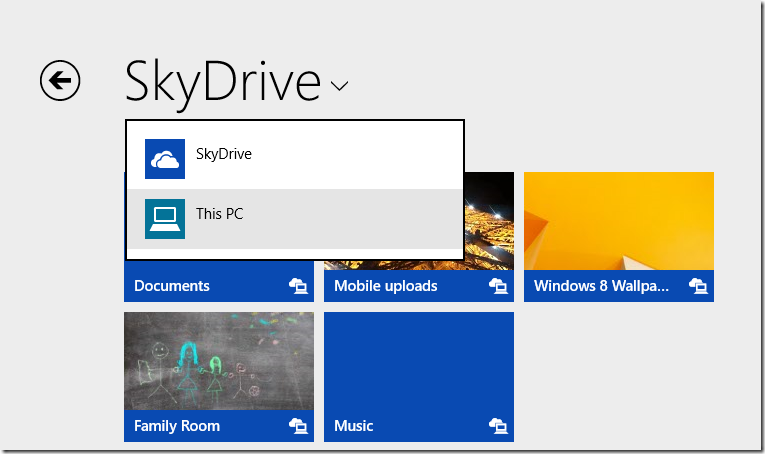 Of course, given the secure nature of the Windows Phone OS, we expect that only certain directories can be managed with the file manager. Furthermore, another feature suggestion – the ability to store apps and attachments onto microSD cards – may also be facilitated by this new SkyDrive app, allowing users to easily move apps, files and folders between their device's local storage, microSD cards, or perhaps even choose to sync to the cloud.
Other Windows Phone 8.1 features, such as a "Cortana" digital personal assistant, notification centre, actionable notifications, dual-SIM support, just to name a few, are also believed to be coming soon. It is anticipated the Microsoft will reveal some of its new features during Mobile World Congress on February 24, 2014.