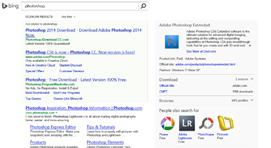 When Microsoft first introduced Snapshots a year ago in May, the idea was to connect the billions of entities and documents on the web with the trillions of relationships between those entities, actions, and people. Microsoft uses technology they refer to as "Satori" to connect those entities:
The underlying technology for Snapshot is designed to develop deep understanding of the world around us not only as a collection of entities (people, places and things) but also the relationships between those entities. Inside the Bing engineering team, we call this technology Satori, which means understanding in Japanese. Over time, Satori will continue growing to encompass billions of entities and relationships, providing searchers with a more useful model of the digital and physical world.
Fast forward to today, where Bing Snapshots looks quite a bit different than it did when Qi Lu and Harry Shum introduced it in 2012, and Microsoft continues to add new functionality and new information to the Satori knowledge base, and to Snapshot.
In a post on the Bing Search blog today, Microsoft is introducing a number of new topic areas now included in Snapshot. The list includes:
TED Talks
Audio, including famous speeches and National Anthems
Online courses from leading universities
More information on those universities, including ranking, undergraduates, and tuition
Scientific concepts
Historic events
Expanded Related People information in image "tooltips"
Animal subspecies
App and software downloads – quick info on searches for "Photoshop" or "WinZip", for example
Natural Language queries
For major figures or entities, the information is well presented and quite up to date. A search for "Corey Hart", for example, a Major League Baseball player who signed a contract with the Seattle Mariners yesterday, already lists him as a member of the Mariners. We tried some other queries and were quite impressed, but it didn't take long to outwit the natural language query, as a search for "who won the world series last year" provided instant results, but "who lost the world series last year" only provided links to the World Series on Wikipedia, and the number two result was for the TV series "Lost".
Google has a somewhat similar sidebar feature, including links to related people, books, etc., (as well as to Google+ pages, of course). A couple of quick comparisons show that a search for "Barack Obama" (one of Bing's top searches of 2013, which they prominently display in the result) brings fairly similar sidebar results: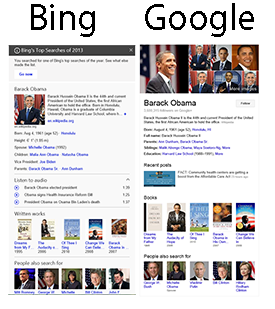 Another search, however, this time for "American Ground Squirrel", had Bing clearly in the sidebar lead, with Google offering no sidebar results at all: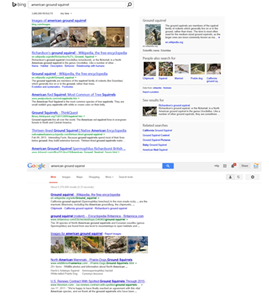 Of course our results are about as far from scientific as you can get, as we just randomly chose a couple of search phrases to gather some screenshots, but at first glance it looks as though Bing Snapshot is coming along nicely. What do you think, does having this kind of instant information help you when you're searching? What would you like to see included in "Satori", or does it even matter to you?