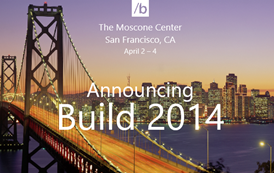 Microsoft officially announced the dates and venue for its quasi annual developer's conference, Build, to occur from April 2-4 at San Francisco's Moscone Center (yesterday, Tom Warren at The Verge caught an early peek at a web page promoting the dates, but Microsoft made it official today). As usual, Microsoft will use the conference to expand on what's coming for developers:
At this year's event, we'll talk about what's next for Windows, Windows Phone, Windows Azure, Windows Server, Visual Studio and much more.
In what may be an even more interesting turn of events, however, Build could very well be the first chance for a new CEO to speak in detail on where Microsoft, and a new CEO, are heading. Now, there's no telling whether or not Microsoft will even have a new CEO by then, but analysts and pundits are hoping and expecting that Microsoft will make a decision sooner rather than later, and Build would be an opportune time for a first look.
Not much has really happened in terms of CEO news lately, although there have been a flurry of blog posts recently with supposed information and a few outright wild guesses.
We've long felt that Microsoft's first choice would be to have an outsider come in. As Steve Ballmer said in an interview with the Wall Street Journal last month:
"At the end of the day, we need to break a pattern," he says. "Face it: I'm a pattern."
Frontrunner in the outsider division has been Alan Mulally, CEO of Ford and instrumental in helping Ballmer orchestrate the company's recent reorganization. A non-story last week had Edsel Ford saying that Mulally had no plans to leave Ford before the end of 2014, but that wasn't anything new, and apparently even Ford's board of directors isn't buying it. However, Mulally lacks a high-tech background, at 70 years of age could be a short term replacement for Ballmer at best.
Some other names have surfaced over the past few days, and perhaps the one tidbit of real news has been that an outsider may indeed be in play, according to Kara Swisher at All Things Digital:
A few weeks ago, I wrote a piece about the possibility of an outsider dark-horse candidate emerging in the race to become CEO of Microsoft.

Now it might be more of a possibility than ever before, tracking on sources inside the company that have consistently said that there is a male tech executive in the running who has not been named publicly as yet.

Said one person about this candidate: He is "in tech, someone folks are excited about, but not a done deal."
Swisher goes on to make some wild guesses about who an outsider CEO might be, but Bloomberg soon reported that the mystery candidate may have been Qualcomm's Steve Mollenkopf. That rumor turned out to be short-lived, however, as Qualcomm announced this morning that Mollenkopf will become Qualcomm's next CEO.
We're still holding out hope that Microsoft does indeed "break the pattern" and fill the position from the outside. The insider frontrunner at this point seems to be Satya Nadella, who has been at Microsoft for over 20 years, has consumer experience with Online Services and Bing, and is knocking it out of the park with Server and Tools, specifically with Azure. We've never felt that this was the right time for returning Nokia ex-CEO Stephen Elop to take over Microsoft – he's going to be needed to incorporate Nokia into Microsoft. Nokia is going to need Elop's full attention, perhaps for years to come.
Tony Bates is still an interesting possibility: he has the ear of Silicon Valley, has a consumerist world-view and a fresh set of eyes for Microsoft's consumer focused devices and services strategy. Still, he's not strong in enterprise, where Microsoft continues to make the bulk of its money.
And so the search goes on, even as Microsoft forges ahead with plans for the next generations of software, services, and devices. We're excited to have a chance to head to San Francisco to hear what Microsoft is up to. Will we be hearing about it from a new CEO?