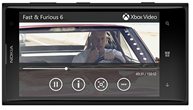 While we may not be getting a new CEO for Christmas (Microsoft Board of Directors member John Thompson made that clear yesterday in a blog post on the Official Microsoft blog), Microsoft still has plenty of presents just in time for the holiday season, especially for Windows Phone users.
For the first time, Microsoft is finally making Xbox Video available for Windows Phone, available now as a free download. Stream movies or TV shows from the cloud, or download them (although not in HD, at least not yet). You can purchase individual movies or TV shows, or purchase TV series Season Passes and Xbox Video will automatically add new shows to your collection at a savings from purchasing individual episodes.
Xbox Video for Windows Phone makes viewing Xbox Video on other devices better, too. A blog post on Xbox Wire announcing the new apps explains:
With Xbox Video, your collection follows you from screen to screen in the cloud. For example, you can buy and start a movie or TV show from XboxVideo.com or Xbox Video on a Windows 8.1 tablet, and continue watching on your Xbox One, Xbox 360 or Windows Phone 8. And with Xbox SmartGlass, you get a richer viewing experience that isn't found anywhere else. Xbox SmartGlass integrated with Xbox Video for Xbox One and Xbox 360 offers second-screen experiences with bonus content and exclusive extras, serves as a remote control, and gives you new ways to interact with whatever you're watching.
Windows Phone users can also check out the latest from Xbox Music today, too. Requiring an Xbox Music Pass, and available as a Preview until the final version is ready in 2014, the new Windows Phone app is available in the 22 markets where Xbox Music is available. The new app, a separate installation from the built in Windows Phone Xbox Music player, continues Microsoft's move away from built in "hubs" and toward a more easily updateable app model. Once Xbox Music Pass content is downloaded via the new app preview, it will be available for playback using either the app or the Music hub, according to a post on The Verge.
Along with the new Xbox offerings, Windows Phone users also are getting new updated versions of a whole slew of apps, including another update to the Facebook Beta app (which seems to be reaching Apple-like perpetual beta status), Vine, Instagram, and Angry Birds Go!. Windows Phone Central has the details.