It's Friday night here in Seattle, the snow has melted, and to be honest, not much is going on in the tech news world as most everyone is on holiday break. That didn't stop the folks at Windows Phone from sending out a bit of holiday cheer, however:

Hello!

To show our appreciation of Windows Phone customers, we are giving you an extra 20 GB of free SkyDrive storage for one year. This is in addition to the 7 GB of free SkyDrive storage that all customers currently have.

SkyDrive is built into your Windows Phone. It's personal online storage that you can access – along with the photos and files you save there – at SkyDrive.com from any Internet-enabled device, and through the SkyDrive mobile app.
No word in the email if it is US only, but no guarantees that you'll receive the offer, in any case. But for this inbox anyway, it was a nice holiday surprise, and quite unexpected well into a Friday evening.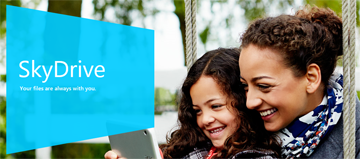 While we're at it, this may be a good time for an explanation of what happens after that year of extra storage is up. The way it works is this: once your year (or whatever period) is up, all your stuff remains safe, and you can keep it on SkyDrive as a sort of archival storage. You can download, view, or delete files from SkyDrive. However, and this is somewhat important: until you get back to under your previous free limit, or pay for more storage, you will not be able to edit your SkyDrive files. At all. Useful if you're storing music or files you're not going to touch again, but do be careful of locking yourself out of the ability to edit your SkyDrive files. You obviously can't upload files, either (even if you delete some number of GB that's still puts you above your free or paid limit).
So let's go through that one more time: Say you have 7GB of free storage. You add 20GB for one year, and you fill that storage up with a total of 25GB of storage. Now your year is up, and you decide not to pay for a second year. You can view, download or delete anything in that 25GB of storage, but you can't edit anything (even files that were in your initial free 7GB). To do that, you must either offload enough storage to get below your free (7GB) limit, or pay for more storage. You could pay for something less than your original paid storage, and get below that limit (more applicable for larger storage limits, say 100GB or 200GB, where you might want to pay for 50GB the second year, for example).
All of this applies to files on SkyDrive.  You can of course edit files in your local SkyDrive folder, just that those changes won't be made to the SkyDrive versions.
We spoke to some Microsoft folks about this at the MVP Summit, but Jared Newman over at PC World has a public confirmation, and some additional info on what other cloud storage services do.
In other words, you can only edit or upload files in SkyDrive if your storage is less than your free + paid limit. Just so you know. Got it?
Let us know if you've received the Windows Phone offer, especially if you're not in the US.