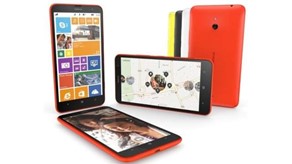 Yesterday, Microsoft released some numbers showing that Windows Phone achieved record sales this holiday season, topping sales of iPhones in 24 markets, and was #2 in sales in 14 markets. Here's the statement, provided to journalists at CES by Microsoft, with the numbers coming from market research company IDC (via Neowin):
We've seen record sales of Windows Phone this holiday worldwide, nearly doubling phone sales during Christmas week (YOY). In the third quarter this year, according to IDC, Windows Phone reinforced its position as a top three smartphone operating system and was the fastest-growing platform among the leading operating systems with 156% year-over-year gain. Windows Phone is the #2 smartphone operating system in 14 markets, and shipped more units than iPhone in 24 markets in Q3. Our portfolio continues to expand: from award-winning flagship devices like the Nokia Lumia 928/1020/1520, to affordable new innovations like the Lumia 520/625/1320 and Huawei W1/W2.
Another phone sales numbers report (via ComputerWorld), this one from Kantar (pdf), while showing that (as has been reported previously) Windows Phone has reached over 10% market share in Europe, it is still stagnant in the two biggest markets in the world:
Windows Phone's gains across Europe have steadied over the past few months, holding at 10.0% in the latest figures. Europe remains a high point for Nokia and Windows, but progress in the world's two largest smartphone markets remains stubbornly slow with share stuck at 4.7% in the US and 2.7% in China.
While the numbers provided by Microsoft are indeed better than no increase at all, when compared to Android sales, the sales of Windows Phones are still a drop in the bucket. Another report, this one from Gartner (via Microsoft-news.com) shows that even combined phone/desktop/laptop/tablet sales have Android in a huge lead, which according to Gartner should continue into 2015:

Microsoft has done well to capture 10% of Europe's market share, but it's a market where Nokia had traditionally done well. Will the brand change upcoming, when Microsoft will no longer be able to use the Nokia name for new phones, make a difference there?
Another market potential for Microsoft is in India, where Nokia has also traditionally done well, and two new devices were announced for sale yesterday. The Nokia Lumia 525 will go on sale in India for Rs 10999, or about $167 US, and the Nokia 1320, at Rs 23999, or about $384 US. These are great prices, and could continue to solidify market share there, where Windows Phone currently has about 5% market share and is growing.
So, while it's certainly not the worst news for Microsoft and Windows Phone, there's still a big fight ahead and a long way to go before Windows Phone makes much of an impact on much of the world.