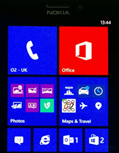 Nokia announced today that it is beginning to ship its "Black" update, and the Nokia Conversations blog post announcing the update led with a description of a new feature called "App Folder":
The Lumia Black update combines a host of new features, improvements in imaging, new apps and app updates from Microsoft and Nokia to make your Lumia smartphone experience even better. So what can you look forward to, once Lumia Black is installed?

App Folder. This brand new feature makes your Lumia experience even more fluid by giving you an option to further personalize and organize your Start screen. With App folders you can group similar apps and settings into one folder, a tile, on your Start screen.
However, confusion is currently reigning on Twitter and elsewhere as the "feature", as it is described, does not appear to be available to those downloading Black to their Nokia 1020 or 925 phones.
WPCentral is speculating that App Folders may be coming later, as an app, similar to how Samsung has already provided similar functionality.
On the Nokia Conversations blog post, there are currently over 60 comments, most of them asking about how to access App Folders, as very few seem to be able to find them. There is some speculation that App Folders only shipped in China, as some do seem to have the feature, but we're not sure even of that.
Matteo Pagani, a Windows Phone developer and "Nokia Champion", tweeted that folders support is indeed an app, "but it's not active yet":
Lumia Black enables folder support, but it's not active yet. A separate app coming soon will enable it.

— Matteo Pagani (@qmatteoq) January 9, 2014
If you have a 1020 or a 925, or access to the Black update, let us know if you're able to find App Folders, thanks!