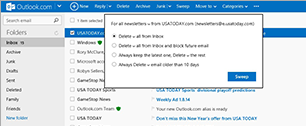 According to a new blog post on the Outlook blog, the Sweep feature in Outlook.com is used more than 7.5 million times per week. It allows users to clean out their inboxes using bulk delete of certain types of email, and setting up rules for how that email should be handled in the future. With the updated Sweep feature, rolling out to Outlook.com users "in the coming weeks", a newly updated UI will provide a simpler interface, requiring less clicks to use.
Search is also being updated in Outlook.com:
With your email organized the way you want it, you can use the updated Search tool to quickly find email regardless of the category or folder it's in. One of the most commonly-searched criteria is for people, so we now show your contact names and pictures together when you're looking for them. Searching for a contact will find all email from any email address they have, so you don't have to remember whether that email came from their personal address or their work address.

We also provide suggested search criteria for the type of email you may be looking for (e.g. and has an attachment). Advanced search now contains more search criteria and has a cleaner UI, and filters that can be applied to the search results.
The blog post goes on to tout the "7th Annual National Clean Out Your Inbox Week", and points out a number of other features improvements coming in the new update. You will soon be able to organize more easily by categories, and "automatically categorize all email from a particular sender in four clicks: click Categories, click the category name, click Apply to all from… and then click Categorize all, automatic filing, instant actions and keyboard shortcuts". That same ""apply to all from…" functionality will also appear with the Move to feature, choosing to "Move all email from…." To a certain folder, and creating a custom rule for future emails.
The update also contains improvements to instant actions, keyboard shortcuts, mobile, and video and chat capabilities from popular services, including Skype, Facebook, Google, Twitter and LinkedIn.