Nokia released its 4th quarter and full year 2013 earnings earlier today, and it wasn't particularly good news either for Nokia or Microsoft, who are poised to acquire Nokia's phone businesses sometime early this year.
While losses on the phones businesses lessened, revenue from handsets fell 29%, and Nokia reported that it sold 8.2 million Lumia devices in the quarter. That's down from the 8.8 million it sold the previous quarter, a potentially troubling sign for Microsoft as it dives headfirst into the "devices and services" era.
Sales for Lumia devices have been steadily if not swiftly growing, as shown in this chart posted by @WSJNordics, the Wall Street Journal's Scandinavian Twitter account: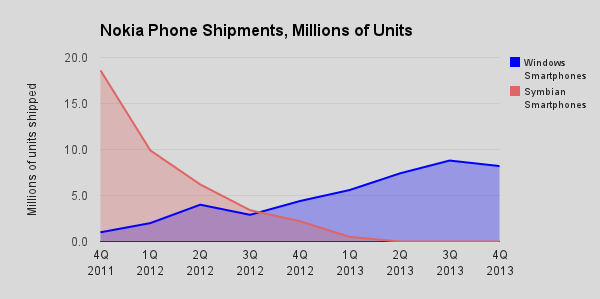 Microsoft has set a goal of 50 million handsets as a "break even" point for sales once it acquires the new businesses, and it will still have significant work to do to achieve that goal as Nokia sold 30 million Lumias in 2013, according to The Wall Street Journal. That's a significant increase over the 13.3 million devices sold in 2012, but Microsoft will need to move fast to keep the momentum going.
Sales of Nokia's non-Windows phones were flat over the quarter, another area Microsoft must address soon, according to The Wall Street Journal:
Sales of Nokia's basic mobile phones, once the Finnish company's bread and butter, remained roughly flat in the fourth quarter compared with the third, Nokia said, thus performing better than the smartphone operations. This business, however, has come under increasing pressure and remains one of the issues Microsoft must address in the near future, as consumers in developing markets increasingly choose more advanced Google-powered Android smartphones over cellphones with lesser functionality.
Nokia has switched its earnings reporting to discontinue the parts of the business it is selling, signaling that the acquisition is on track to happen this quarter. Microsoft announces its earnings later today, but so far neither company has announced anything new about when the transition will take place.
Microsoft also appears to be close to naming a new CEO. The most recent rumor had Ericsson's CEO Hans Vestberg as a candidate, which if that were to happen could signal Microsoft's commitment to its fledgling devices businesses. It could also clear up former Nokia CEO Stephen Elop's position, who is coming back to Microsoft with the acquisition, and has also been rumored as a CEO candidate. Obviously Microsoft has its work cut out for it as it begins the work of selling Lumia phones and developing the brand, something that could take up the vast majority of Elop's time.
Nokia separately announced today that it will be holding a press event at next month's MWC, and rumors are flying that it may take the opportunity to announce an Android powered phone, as well as the Nokia Icon, the latest Windows Phone set for Verizon.