Just this morning, Microsoft made official their new name for SkyDrive, it's now "OneDrive" (see our post on the short history of the many names of OneDrive). Now, word is filtering out that OneDrive may not be the only name change in the works. Mary Jo Foley has just posted on another apparent upcoming change, this time for Microsoft's online Office Web Apps, which look like they'll soon be called "Office Online".
Last week, Microsoft blogged about the changes they made to their Web Apps, and included a screenshot that showed a new dropdown header that includes the individual Office apps:
The "Word Team" removed the image sometime shortly thereafter (not the greatest of starts for the new look Office Blogs, ouch), but from those links some new images emerged (if you knew where to look), that reveal what appears to be another new name: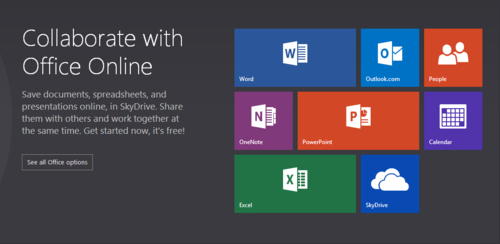 The name does fall right into place with the recently announced "Visual Studio Online", and maybe after all these years Microsoft is finally seeing the light about consistency in branding. Interestingly, Microsoft's Office web site was at one time called Office Online, and we were expecting it to be relaunched way back in 2006 with the advent of Office Live, which went on to become Office Web Apps (so many names, so little time!)
There's no word as of yet if the name change will be reflected across Office 365, etc., but it appears that Microsoft isn't content with just renaming SkyDrive. As always, stay tuned!