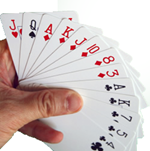 The day started early here in Seattle – Microsoft announced Satya Nadella as their new CEO at 6am PST, just in time for the stock markets in New York to open, three time zones away. Since then, we've been poring over news and notes, and wanted to end the day with a few observations.
Better at Bridge: Bill Gates may have had his hat handed to him in chess the other day, but he's a bridge player, and he's played out the Board of Directors hand like a master. Investors have been calling for more accountability from the board, but they've been doing that for a long time. So it was somewhat surprising some months ago that Microsoft announced it would make a seat available to ValueAct Capital's President Mason Morfit, an "activist investor" with a stated intent to change things up. How would this all play out, especially with Ballmer leaving?
The scuttlebutt was that Gates would step down as Chairman and Ballmer would leave, leaving the board with a new Chairman, no Ballmer, perhaps a new outsider CEO, and ValueAct. Not so fast, there. Instead, the board now consists of Gates AND Ballmer AND Satya Nadella to counteract ValueAct and John Thompson as a somewhat activist Chairman. If anything, the Board of Directors is in a stronger pro "One Microsoft" and stay the (new, post-Ballmer, One Microsoft) course than it was before this all began. Brilliantly played.
Welcome to the Enterprise: While investors and the tech press have been calling for Microsoft to drop everything and go toe to toe with the likes of Google and Apple and Samsung, Microsoft proved in its last earnings report (if you didn't know that already) that it is still and will be an enterprise company, as much as it needs to move forward. Today's festivities served to soothe Microsoft's biggest customers, who are less concerned about Lumia sales and more concerned that the software they depend on will continue to be a top priority for Microsoft, and that Microsoft will listen to their concerns. It will. While Nadella talked about "devices and services", he was quick to give a prominent place to "software", too. Nadella has been working the enterprise crowd for the last three years as head of Server and Tools and more recently as EVP of Cloud and Enterprise Engineering, and he made it clear today that he'll continue to do so.
Illuminating Lumia: Nothing much was said about Microsoft's acquisition of Nokia's phones business today, and until the deal clears all the regulatory hurdles it needs to, we won't be hearing much about it. A number of tech writers made mention of former Nokia CEO Stephen Elop today, as if he had "lost" a "race". The truth is that the job of integrating Lumia into Microsoft, while at the same time building the business and selling phones is a bigger one than almost any other CEO job out there. Elop is going to not only have his hands full, but be motivated to prove that he can sell Lumia to the world, whether it's for Nokia or Microsoft. We would be surprised if the affable Elop won't be center stage in the consumer facing effort to sell Microsoft mobile devices, and if he can pull it off, he'll be able to write his own ticket.
Microsoft, if it wasn't already, is going to be a very interesting company to watch these next few months and years. With Satya Nadella at the helm, vowing to "ruthlessly remove" any obstacles to innovation, the challenge will be to see if he can do just that.