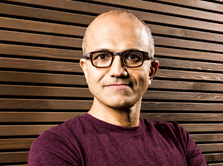 Microsoft, in a press release this morning, has made the official announcement that Satya Nadella, a 22 year Microsoft veteran, becomes the third CEO in the 30 year history of the company, effective immediately
In addition, the company announced that founder and Chairman of the Board Bill Gates will step down as Chairman, and assume a new role:
Microsoft also announced that Bill Gates, previously Chairman of the Board of Directors, will assume a new role on the Board as Founder and Technology Advisor, and will devote more time to the company, supporting Nadella in shaping technology and product direction. John Thompson, lead independent director for the Board of Directors, will assume the role of Chairman of the Board of Directors and remain an independent director on the Board.
Former CEO Steve Ballmer remains on the board as one of 10 Directors, a position he held as CEO. The company also released emails from Satya Nadella, outgoing CEO Steve Ballmer, and in a somewhat unusual move, a statement by ValueAct Capital President Mason Morfit, the new activist investor soon to be board member, who is not listed in today's press release as a member of the board just yet.
Nadella introduces himself in his email to the company, answers a few simple questions like "Who am I?" and "Why are we here?", and ends with a call to "believe in the impossible and remove the improbable", quoting Oscar Wilde, and invokes the "One Microsoft" strategy:
This starts with clarity of purpose and sense of mission that will lead us to imagine the impossible and deliver it. We need to prioritize innovation that is centered on our core value of empowering users and organizations to "do more." We have picked a set of high-value activities as part of our One Microsoft strategy. And with every service and device launch going forward we need to bring more innovation to bear around these scenarios.

Next, every one of us needs to do our best work, lead and help drive cultural change. We sometimes underestimate what we each can do to make things happen and overestimate what others need to do to move us forward. We must change this.

Finally, I truly believe that each of us must find meaning in our work. The best work happens when you know that it's not just work, but something that will improve other people's lives. This is the opportunity that drives each of us at this company.

Many companies aspire to change the world. But very few have all the elements required: talent, resources, and perseverance. Microsoft has proven that it has all three in abundance. And as the new CEO, I can't ask for a better foundation.

Let's build on this foundation together.

Satya
Microsoft is up 1.75% early in this trading day on the news.