Microsoft released a number of updates for Windows 8.1 RT, Windows 8.1, and Windows Server 2012 R2, and among the updates was something a bit unexpected: a SkyDrive update that brings back the sync icon in the taskbar and updates SkyDrive settings.
The Support page (KB 2923768 ) doesn't give a lot of details, only revealing:
This update improves the Skydrive experience for all users in Windows RT 8.1, Windows 8.1 and Windows Server 2012 R2.
However installing the update packages reveals a number of changes to SkyDrive (not yet including the name change, however). LiveSide reader @Tuzem_2 tweeted us a couple of screenshots of the changes: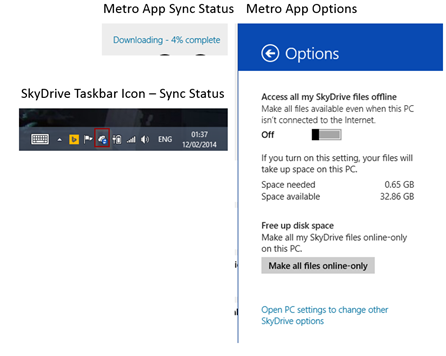 If you've been brave enough to download the leaked Windows 8.1 Update 1 that's floating around the internet, you're already aware that the sync icon was coming back, however we weren't aware that it would show up so soon, or on Windows 8.1.
You can check for a Windows 8.1 update by going to the charms bar>settings>Change PC Settings>Update and Recovery and update your system to see the changes, and to get the SkyDrive sync icon back!
Notice any other changes in SkyDrive? Let us know in the comments…