Yesterday marked the much anticipated rebrand of SkyDrive to OneDrive, but in a companion move, Microsoft also announced that Office Web Apps is now "Office Online". Of course, if you've been reading LiveSide, you already knew the change was coming, as we spotted the new name back in January.
While the change hasn't yet been made here on Outlook.com, once you open up a document in Office Online through your OneDrive account (by clicking on the now defunct SkyDrive icon in Outlook.com) and click on the OneDrive dropdown in the upper left corner, you'll see the new Office Online icons:

To make things easier, Microsoft has also introduced a new website, Office.com, where you can quickly open any of the Office Online "web apps":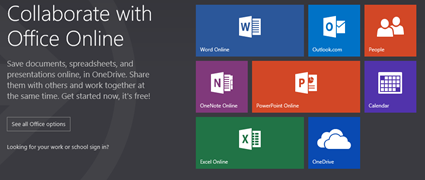 Microsoft is also introducing a number of new templates to Office Online documents, making it easier to use the web interface to create professional looking documents "on the go":
Not only are we making it easier to find, share and collaborate using Office Online, we're making it easier to create great looking documents. The new online experience includes hundreds of Word, PowerPoint and Excel templates so you can go from nothing to something with just a click. Budgets, resumes, calendars and more, all available online, for free at Office.com.
The name change comes as part of a continuing (some might say never-ending) rebranding effort at Microsoft, and to make the online versions of Office products less confusing, and to make them easier to find:
Today we are making two changes. First, we're renaming Office Web Apps to Office Online so you know where to find our free online experience. We heard from customers that the inclusion of Apps in our name was confusing. Are they something I install? Do I go to an app store to get them? No, to use them all you need is a web browser. Ah! You say. So it's like Office, online. Yes, exactly. Office Online.

Secondly, a lot of you don't know that we have an online version of Office because you just couldn't find it. If you're already using Office Online on OneDrive (formerly SkyDrive) or on SharePoint at work, great. We're glad you found it there. You can still use Office Online just like you always have. But we're making it easier to find for the rest of you by introducing Office.com, a discoverable and shareable web page so that you can start using Office Online right away.
No word as yet on any changes to the Outlook.com "app switcher", but hopefully that change is coming soon, too.