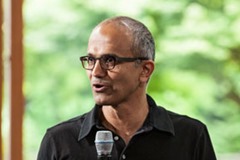 As was reported this weekend by Re/Code and then Bloomberg, Microsoft made a number of management moves within senior leadership today.  Former Skype CEO and Business Development and Evangelism EVP Tony Bates has left the company, as has Tami Reller, the former EVP for Marketing.  EVP for Advanced Strategy Eric Rudder will assume Bates' duties, and longtime Microsoft marketing guy Chris Capossela will take over as Chief Marketing Officer, a role he once held in a previous re-org.  Capossela will retain his position as worldwide leader of the Consumer Channels Group (CCG) until that role can be filled.
With the departure of Tami Reller, Mark Penn, who was EVP for Advertising and Strategy, will become Chief Strategy Officer:
This change in marketing structure provides an opportunity for Mark Penn to play a new leadership role at the company as EVP, Chief Strategy Officer. Mark brings a blend of data analysis and creativity that has led to new ways of working and strong market outcomes such as the "Honestly" campaign and the Super Bowl ad, both of which were widely cited as examples of high impact advertising across the industry. His focus on using data to quickly evaluate and evolve our campaigns has driven new insights and understanding. Mark and his team also will continue to provide input in the area of competitive research and analysis. I am looking forward to applying Mark's unique skill set across a broader set of challenges facing the company, from new product ideas to helping shape the overall areas of strategic investment. He will be a member of and an advisor to the SLT and will continue to report to me.
While it's difficult to tell how much these moves are a result of new CEO Satya Nadella's input, and how much he has just had to react to the departures of Bates and Reller, there does seem to be a theme emerging from the Nadella regime, and that's "look internally first".  In a post in his Hal2020 blog, former Microsoft Distinguished Engineer and frequent Microsoft commentator Hal Berenson says:
I don't think any of these moves are earth shattering in the short run.  They do represent incremental changes that will lead to a more cohesive Senior Leadership Team.  They also mean that the SLT is more heavily weighted with people who grew up with the company and were (often as junior individual contributors) part of its glory days.  They no doubt are highly motivated to be known as the ones who returned the company to unquestioned leadership status.  I can't give an unbiased opinion on if this is the right direction to take (my biased one is yes), but there is one thing I'm sure of.  Steve Ballmer spent a lot of time flailing about looking for a formula, including hiring many outside executives at the Senior Leadership Team level, to propel Microsoft forward.  With Satya's appointment as CEO, and his management moves so far, it is clear that the primary bet is on home grown leadership.  That could reignite a lot of passion within the company.
That's one way of looking at it, of course, but it's difficult to look at the moves Microsoft has made as being much more than a rearrangement of deck chairs.  CEO Steve Ballmer is out (but he's still on the Board and still owns the second biggest portion of Microsoft's stock), replaced by longtime Microsoft loyalist Satya Nadella, who is surrounded by a senior leadership team (especially with the departure of Bates) of longtime Microsoft loyalists.  It's hard to imagine how this Microsoft is going to be very much different than the Microsoft of old, to be honest.  Perhaps that's the point, as for all of its naysayers, Microsoft continues to rake in the profits, is intent on pursuing initiatives like Bing, Windows Phone, and Xbox, and is making progress in areas like Azure cloud services and a connected, service oriented Office.  For anyone expecting wholesale changes in the way Microsoft does business, this should be a wake-up call.
Microsoft has already made changes to their Senior Leaders page (Julie Larson-Green remains on the page and in her current role until Microsoft completes the Nokia acquisition and Stephen Elop is back on board), and we've updated our People pages, too.