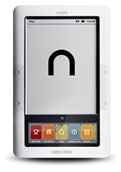 We first caught notice of the Xbox "Music, Video, and Reading" team last October, and then again in a job posting this February, but since then, we've yet to see an Xbox branded (or any other) Reading product materialize. That may be about to change soon, however, as Microsoft's supposed partner in an upcoming Reading app or apps, Barnes and Noble, had some interesting notes in a recent 8 – K filing to the Securities and Exchange Commission. The filing, as noted by Mary Jo Foley at All About Microsoft, outlines changes to the partnership agreement Microsoft and Barnes and Noble reached back in April of 2012 :
Pursuant to the Amendment, NOOK Media LLC ("NOOK Media") and Microsoft agreed to co-branding within the Microsoft Consumer Reader for reading content delivered by NOOK Media. The Amendment also provided that subject to certain conditions NOOK Media would be permitted to discontinue distributing the NOOK Windows app and will cooperate in good faith with Microsoft to transition users to the Microsoft Consumer Reader. Microsoft and NOOK Media also agreed to updated revenue sharing to address this possibility. The Amendment also permits NOOK Media to cease efforts with respect to a Windows phone app.
Mary Jo also noted a tweet, from Nook Customer Care (@NOOK_Care), since deleted, which said:
"We appreciate your patience as we look forward to launching the best reading experience on Windows 8 phone in the near future"
The job posting promised a potential SDE (Software Development Engineer) that "you will be on the team building a groundbreaking interactive reading app on Windows, which incorporates books, magazines, and comics".
Barnes and Noble continues to struggle as it tries to find a way to compete with industry leader Amazon, but is planning to introduce a new Nook Reader next year and managed to show a profit last quarter. A partnership with Microsoft could prove to be an interesting one for both companies.