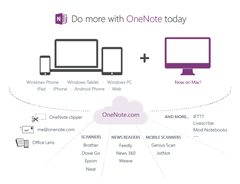 It's Monday morning and time for Microsoft to pound away once again at the news cycle. This time, the company made two major announcements, both of them well expected, but both interesting in their own rights. First, a set of blog posts on the Office Blog introduced a set of new products and features involving OneNote: slimmed down but free versions of OneNote 2013 for Windows and for the first time OneNote for Mac, also free; an API for allowing developers to connect programmatically to OneNote; and some new features for OneNote Online, including me at onenote.com capability allowing users to email content to their OneNote accounts, and a OneNote Clipper for major browsers to send content from a web page to OneNote.
Microsoft also announced its first new Surface product since the release of last year's Surface 2 and Surface Pro 2 devices, this time an LTE version of the Surface 2, bringing built-in cellular connectivity to Surface for the first time. In contrast with the free OneNote products, the Surface will retail for a pricey $679. That's without a keyboard, or an AT&T contract, which is required to take advantage of the 4G LTE device's cellular capabilities. Apparently Microsoft didn't learn from their disastrous pricing fiasco with the first round of Surface devices, which sold so poorly at their original prices that Microsoft was forced to drop the prices and take a $900 million write off on the losses. Mary Jo Foley asked about the thinking behind the pricing, and got this head-in-the-clouds response:
"Surface 2 (AT&T 4G LTE) offers an unparalleled value for the price, especially when you consider pre-loaded Office, 200GB of free OneDrive (formally known as SkyDrive) storage, free Skype calling and unlimited Skype Wi-Fi. Now with LTE capabilities, Surface 2 (AT&T 4G LTE) is the most productive tablet on the planet for personal use on the market, and we're proud to offer it for a competitive price of $679 USD."
Unlike most other AT&T "phablets" (we hate that word but it works), there apparently won't be a carrier subsidy for the new Surface 2 with LTE. In comparison, Nokia's 2520 tablet sells through AT&T (with a 32GB version) for $399 (also without an included keyboard), offering most of the same features for hundreds less, and that's not even beginning to compare pricing with newly reduced iPads or ever more popular Android devices.
Microsoft is beginning to see the light in terms of moving from a software driven to a devices and services world, and while OneNote probably has never been a great seller on its own, it does offer some gateway opportunities, getting at least a portion of Office on more devices around the world, promoting OneDrive, and beefing up its service offerings with the new APIs. But the company is entering the devices market years later than their competitors, and entering into smartphone and tablet markets also years late. It can't expect to be so late to the party and still command a premium price, and yet that's exactly what it seems to be doing.
If the Surface 2 with LTE is a "fill in the gap" device while Microsoft readies an 8″ version of the Surface, or expands the Nokia phablet line, or …. something, well there may be some small segment of the market that's interested. Unlike the new free versions of OneNote, that could actually drive users to pay for either more storage on OneDrive (although Google's recent drop in Google Drive prices should have Microsoft marketers scrambling to rethink their own pricing strategies there, too) or Office, the Surface 2 with LTE doesn't offer much of anything to get more people on board the Windows 8 bandwagon.