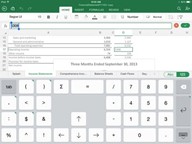 In a just concluded webcast from San Francisco (the on demand webcast is already up if you missed the ~40 minute presentation), new Microsoft CEO Satya Nadella (he's been on the job 52 days, he announced, "but who's counting"), announced that Office for iPad will be available via the Apple App Store beginning at 11am PDT (in just a few minutes). The suite includes Word, Excel, and PowerPoint, and will be free for reading or presenting, and require an Office 365 subscription for full editing capabilities.
The apps have been fully rebuilt with special features only found on the iPad, such as a special numeric keyboard for Excel, a touch first experience, and most of the features you would expect in an Office app, including multi user collaboration features. We're expecting full documentation and blog posts from Microsoft up soon, for now, check out Paul Thurrott's introduction and screenshots from the new Office for iPad.
In addition, as Mary Jo Foley correctly predicted, Microsoft also introduced the Enterprise Mobility Suite, a combination of Windows InTune, Azure Rights Management Services, and Microsoft Azure Active Directory Premium, to allow IT departments to "centrally manage iPads, iPhones, Android devices, Windows devices, and more".