Today in San Francisco Microsoft opened the 2014 version of its Build developer's conference with a three hour keynote featuring Cortana, Universal Windows Apps, appearances by Stephen Elop and Satya Nadella, and a few surprise announcements, including Windows for the low low price of free to OEMs of phones and less than 9″ devices and the inclusion of Xbox One in an upcoming revision of Microsoft's new write once, tune for multiple devices strategy. In what received possibly the largest cheer of the day, attendees received a quick look at the return of the Start Menu to Windows 8.1+, complete with live tiles: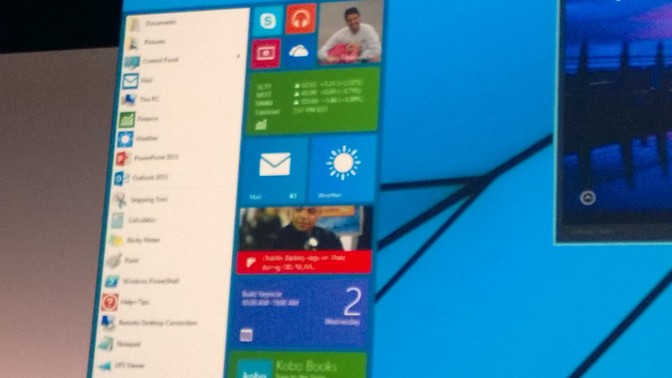 Along the way, Joe Belfiore, Terry Myerson, Elop, and David Treadwell demoed Windows 8.1 Update, Windows Phone 8.1, updates to Visual Studio 2013 to make writing Universal Windows Apps easier. Kirk Koenigsbaeur presented another in what's become a long line of sneak peeks at Office as a "Modern app" (which by the way seems to be the current preferred name for Windows RT Metro Modern apps), but with no further information on when they'll finally be released. Microsoft also announced what has become a highly anticipated feature of the conference, the giveaway this time of an Xbox One and a $500 Microsoft gift card to Build attendees. The company also announced that it will be open sourcing WinJS, Microsoft's additive JavaScript library, and with Elop on stage, showed off three new Nokia Lumia phones: the 930, and the 630 and 635.
Microsoft showed signs of a new attitude with the announcements, embracing open source, acknowledging its need to embrace a "challenger mindset", and doubling down on services with the introduction of Cortana, but shored up its reliance on Bing, Office, Xbox and Windows Phone as core parts of its strategy moving forward. If it wasn't apparent before, the new guard was out in full force, too, with Myerson, Belfiore, and Elop taking up the lion's share of the keynote, and David Treadwell, having come back in from the cold in what some have guessed was a self-imposed exile to Xbox, back up on center stage.
Cortana, for all its "me too" comparisons to Apple's Siri and Google's Google Now, seems at first glance to be a thoughtful advancement on the digital personal assistant. Microsoft has included a "notebook" feature that allows you to add or delete interests that Cortana can track for you, and you're able to opt in to having Cortana monitor your email (and that's any email you bring down to your phone except for, because of some contractual snafus, Yahoo Mail) to capture relevant information such as upcoming trips etc. Third parties will be able to write to Cortana, and there isn't any lockdown to using only Microsoft services, as much as that might be just exactly what the Microsoft of old would have done.
There wasn't any big reveal of Windows 9, or a release for "Modern" Office, but Microsoft put on a good show, offered up a couple of surprises, and flaunted a "new guard" of Microsoft executives that seem to be bringing some much needed fresh enthusiasm to a company that's been bypassed in recent years. Tomorrow will bring more about Microsoft's cloud and enterprise offerings, featuring newly promoted Executive Vice President Scott Guthrie. Stay tuned!